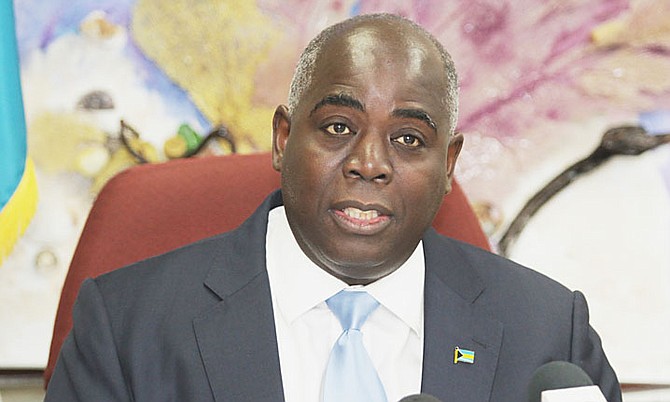 By RASHAD ROLLE
Tribune Staff Reporter
rrolle@tribunemedia.net
DEPUTY Prime Minister Philip "Brave" Davis yesterday said he could not confirm reports that Chinese investors have requested significant concessions and benefits from the government as incentive to remobilise Baha Mar, but he called concerns about the matter "political mischief".
However, Mr Davis said he is aware that Chinese investors have put forward proposals which have not been brought to Cabinet yet. He told reporters that investors can request whatever they desire, but that does not mean the government will concede to these proposals.
"I understand that they may have made some proposals which have not come to Cabinet as yet," he said to reporters yesterday.
"I'm not aware of the requests being made. I haven't seen any letter. It's been reported that a letter has been written. It's been reported that the letter found itself in the hands of (talk show host) Steve McKinney who then brought it to the fore," he said outside Cabinet.
Rumours that China Construction American (CCA) requested the government sell or grant 500 Bahamian citizenships to the Chinese investors, grant the company 30 years of exclusivity on its casino license in which no tax would be paid and grant a Value-Added Tax (VAT) break for up to 30 years spread like wildfire on Monday.
This came after Mr McKinney revealed the contents of a purported letter addressed to the Prime Minister from CCA during a recent segment of his "Hard Copy" talk show on Peace 107.5FM.
In a statement on Monday night, Prime Minister Perry Christie dismissed the idea that his administration would ever consider making citizenship a concession to foreign investors, saying this is a "non-negotiable position of my government".
However he did not speak about the other alleged requests.
CCA has been the subject of intense criticism from Baha Mar developer Sarkis Izmirlian, who has not only sued the company for allegedly failing to meet contractual obligations but also requested that the government arrange a solution to Baha Mar's delay that does not involve CCA.
Against this backdrop, the rumours of the company's alleged requests prompted some to question its fitness as a partner with the government over a matter like Baha Mar which has important national implications.
Mr Davis, however, said investors are entitled to ask for what they want but that does not mean the government will grant these requests.
"Any investor, not understanding our laws and not understanding the way we do business, may request whatever they think is in their interest," he said. "It doesn't mean we will comply with it. We will point out that you can't get that because the law says this has to happen and we cannot break the law. I think it is just basically political mischief to raise this as a concern."
Asked if the alleged requests were absurd, Mr Davis said he would only describe them as such if CCA knew the laws of this country.
"I wouldn't use the word absurdity," he said. "I would only say that if they knew. If they knew that what they are asking for was unachievable, then I would say it's absurd to ask."
When told the company has lawyers who should be informed of this country's laws and the types of concessions available to investors, Mr Davis maintained his position.
"If I'm an investor, if I am going into a country to invest, I will decide what is best for my investment," he said. "I would make requests of the authorities and say 'This is what I would wish to have for my programme proceed.' We could look at those that they request and then indicate to them, 'This could happen, that could happen' and we could point out what can't happen."
In his statement on Monday, Mr Christie described it as an "absolute lie" that citizenship in return for foreign investment had been agreed.
"Bahamian citizenship is not for sale at any time at any price to anybody," the Prime Minister said. "This is a non-negotiable position of my government. Moreover, it is for me personally, a matter upon which no compromise is possible.
"I can therefore assure the Bahamian people, without any equivocation whatsoever, that no deal offering Bahamian citizenship in return for an investment in The Bahamas will ever be entered into while I head the government of The Bahamas. I find the very idea of citizenship-for-sale to be repugnant to all that I believe in and to all that I stand for as a Bahamian. It will never happen on my watch."
He added that the grant of Bahamian citizenship is subject to strict eligibility requirements and qualifications under The Bahamas Nationality Act.
"The suggestion that just because you buy Bahamian real estate or make an investment you somehow qualify for Bahamian citizenship is complete and utter nonsense. Not only is it as a complete non-starter from the standpoint of the government's immigration policy, it is not even legally possible."
Mr Christie is expected to speak at length about the Baha Mar issue when he makes his budget communication in the House of Assembly today.