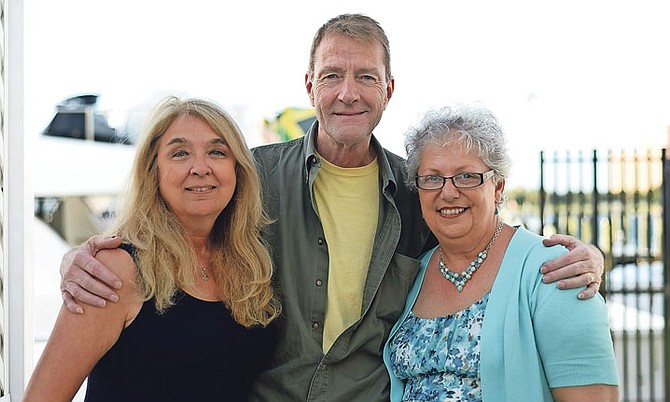 NOVELIST Lee Child, famed for his Jack Reacher thriller series which became a hit movie starring Tom Cruise, was among writers championing literacy at an event last night.
Mr Child is one of the participants in the annual Salt Cay Writers Retreat - at which writers travel from far and wide to attend the event at Blue Lagoon Island.
Yesterday, the Salt Cay Writers Retreat event partnered with the Inner Wheel Club of East Nassau and Luciano's of Chicago Restaurant to offer an evening of readings by Mr Child and two fellow New York Times and international bestselling authors.
Also featuring were award-winning author Ann Hood, known for her bestselling novels The Knitting Circle, The Obituary Writer and The Red Thread., and her memoir, Comfort: A Journey Through Grief, which was named one of the top ten non-fiction books of 2008 by Entertainment Weekly and was a New York Times Editors Choice; and retreat co-founder Karen Dionne, who debuted the first reading of her novel, The Marsh King's Daughter, coming summer 2017.
Proceeds from the event will benefit Project Read, a free local literacy program which offers confidential tutoring to adult non-readers.
According to Project Read, it is estimated that as much as 25 percent of Bahamians are unable to read and write at a "standard that allows them to function properly in our society".
Project Read is dedicated to helping individuals acquire everyday listening, speaking and reading skills to expand their problem-solving abilities and job skill set.
"Having been a member of the Inner Wheel Club for more than 25 years, I was more than happy to support Project Read in whatever way I could," said Lucianos director of special events Sue Lawrence. "Promoting adult literacy is certainly a worthy cause, and Lucianos is honored to be able to offer the ideal setting to do just that."