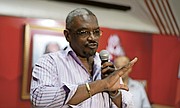 By AVA TURNQUEST
Tribune Chief Reporter
aturnquest@tribunemedia.net
THE government yesterday called on FNM Leader Dr Hubert Minnis to find the courage to publicly support a 'yes' vote in the upcoming gender equality referendum as he did in Parliament.
The statement follows a series of claims by Dr Minnis that the government was not doing a good job at educating the public, and was allegedly offering bribes for a 'yes' vote. The government yesterday said Dr Minnis did not have evidence to substantiate the allegations.

"Dr Minnis voted in a joint sitting of Parliament held on the 50th anniversary of the enfranchisement of women in 2012 for a resolution to remove inequality against women in our Constitution," the government statement read.
"He also voted for all four bills in Parliament to achieve this goal. We continue to welcome his support for a yes vote."
It continued: "Should Dr Minnis locate the courage of his conviction, and campaign with YES (Bahamas), he will see first hand the inspiring and extraordinary work being done to ensure our sons and daughters are equal in the Constitution and under our laws."
Dr Minnis criticised the Christie administration's method of obtaining support for the bills last week Monday, calling the process biased and undemocratic. Several days later he appeared on a radio talk show, where he condemned the government over allegations that it was bribing people with money, contracts, and jobs in exchange for a 'yes' vote. Dr Minnis said the claims were legitimate because he was reliably informed by someone who had no reason to lie.
Progressive Liberal Party (PLP) Chairman Bradley Roberts has called the allegations nonsense.
In its statement yesterday, the government said Dr Minnis' concerns were unfounded and the accusations of bribery unsupported by evidence.
The statement read: "The concerns Dr Minnis voiced recently about public education are unfounded —in fact, the public education campaign has been extraordinary, with more than 200 public information sessions held by the independent Constitutional Commission over the last two years.

"He also offers, without evidence, the accusations that votes are being improperly obtained.
"We invite Dr Minnis to campaign in support of the bills he voted for in Parliament. We ask him to join his many colleagues from both political parties who have offered their support and activism in favour of a YES vote."
The gender equality referendum is set for June 7.