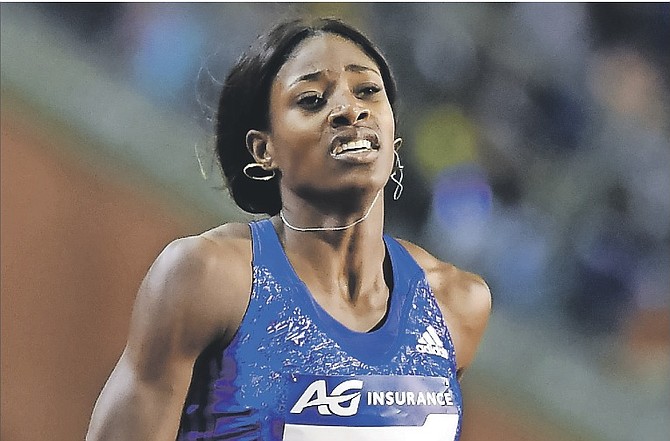 By BRENT STUBBS
Senior Sports Reporter
bstubbs@tribunemedia.net
In another outstanding performance on Saturday at the Prefontaine Classic at Hayward Field in Eugene, Oregon, Shaunae Miller showed that she's ready to take on the world when she heads to the 2016 Olympic Games in Rio de Janeiro Brazil in August.
In pursuit of her first Olympic medal after her first appearance at the games in Beijing, China was a disaster after she was forced to stop competing coming off the first curve in the heats of the 400 metres with an injury in 2008, Miller proved that she's fit and looking to be a top contender for a podium.
She aims to add to her medal collection of silver at the IAAF World Championships last year in her return to Beijing and bronze at the IAAF World Indoors two years ago in Sopot, Poland, as an elite athlete.
The back-to-back IAAF World Junior champion in 2010 in Moncton, Canada and IAAF World Youth champion in 2011 in Lille, France powered from lane six to win her specialty in 50.15 seconds ahead of Americans Francena McCorory and Natasha Hastings in 50.23 and 50.86 seconds, respectively.
Also included in the race was Jamaican Stephenie Ann McPherson from Jamaica, who was fourth in 51.34 and American Sanya Richards-Ross, the reigning Olympic champion, who came in seventh in 52.16.
Miller, 22, was one of three Bahamians who competed at the meet. Although her time was not as fast as her victory in 49.69 at the second Chris Brown Bahamas Invitational at the Thomas A Robinson National Stadium on April 16, Miller said she was pleased that she pulled off the win and remained undefeated so far this year. "The race didn't go as well as I hoped it would, but I still got the run in. Me and coaches will go back and work on some things," she said. "The race felt okay, we had a good field, so I'm happy to get the win. Things have been going very well for us in training. Since last year, I've had a more positive mind set for this year, so we're expecting the best for this year.
"My training has been going great this year, so I'm expecting some great things this year. I know the hard work that I've put in, so I love good competition so things have been going extremely well so far."
Miller, who presented her mother Maybelene Miller with the flowers she received as one of the gifts for her victory, will now prepare to return to Jamaica for her next meet at the Grace Jackson Invitational. In her last appearance there on May 7, Miller posted a winning time of 22.14, which would have been a world leader, but it was wind-aided.
American Tori Bowie, who was also in town for the CBBI, taking the title in 22.26, now has the fastest time in the world after taking the tape the half-lap race in Eugene in 21.99.
Also at the meet in Eugene were Steven Gardiner, last year's rising star who went on to break Chris 'Fireman' Brown's national record and Bahamian 400m hurdles national record holder Jeffery Gibson.
Gardiner, back home training with George Cleare, ran 46.80 for seventh place in a stacked field that should line up in Beijing as well. Grenada's Kirani James, the reigning Olympic champion who won a bronze at the IAAF World Championships last year, won the race in 44.22 ahead of American LaShawn Merritt, the 2008 Olympic champion, who did 44.22.
James, 23, has the world's fastest time of 44.08 when he won over Merritt (44.22) at the Drake Relays in Des Moines on April 29. The showdown came after the duo competed at the CBBI where James won the one-lap race in 44.36. Merritt opted to compete in the 200m where he still holds the world leading time of 19.78 with his win. Isaac Makwala from Botswana came in third in 45.37 in Eugene.
In the men's 400 hurdles, Jeffery Gibson had to settle for fourth in 49.16 behind an American sweep of the top three spots. Michael Tinsley won the race in 48.74, followed by Kerron Clements in 48.87 and Bershawn Jackson got third in 49.04.