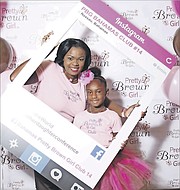 More than 230 mothers and daughters attended the third annual mother-daughter conference hosted by Pretty Brown Girl Club #14. This year's event was held under the theme, "Who Runs The World. . .Girls!", at the British Colonial Hilton on May 7.
The half-day conference was for girls ages six to 16 and their mothers, and featured energetic, upbeat and interactive conference sessions, a mother- daughter panel featuring girls who are making ground-breaking moves in the community, a pastry breakfast, prize giveaways and vendor shopping. The highlight of the day was a special session that allowed mothers and daughters to take part in two rooms of activity stations designed to get them moving, laughing and having fun together.
The founders and co-leaders of Pretty Brown Girl Club #14, Anita Bain and Yolanda Darville, said they were excited to have achieved their goal of making the conference available for mothers and daughters of all backgrounds. They felt that the conference gave all those in attendance an opportunity to bond, grow and learn together while building positive self-esteem.
Through the support of sponsors and donors, they said, they were able to keep the entry fee for the event at $10. Sponsors for this event included lead sponsor BAF Financial as well as RBC Royal Bank (Bahamas), Quality Home Centre, Wendy's, Marco's Pizza, The Bible Book & Gift Centre and the British Colonial Hilton.
Presenters for the event included Sharell Carrol, a sought-after motivational speaker and the author of "Corporate Heels and Cooking Spoons"; Nikki Carter, an art teacher and well-known vocal artist; Gayle Barrow, a physical education teacher with the Ministry of Education; Leshan Ferguson, a top-rated make-up artist and the founder of "Tweak Your Chic," a motivational conference for the women of Grand Bahama; and Ramona Wells, a technology expert, educator and former "Teacher of The Year".
Additionally, the event featured a panel of girls making a difference, including BreAnn Ferguson, the primary school student who founded BreAnn's Care Closet; Caden Smith, a pre-teen who is the founder of Bahamas Red Nose Day,and Biteddie Bethel, a high school student who is the CEO of her own business, Addiction Bakery.
The co-leaders of Pretty Brown Girl Club #14 said they are already looking forward to creating another spectacular event next year.
Pretty Brown Girl is an international organisation that aims to fulfil its mission of "celebrating the beautiful shades of brown all over the world", while inspiring positive self-esteem and confidence in girls and young women. This popular organisation was formed in Detroit, Michigan in 2010 and quickly started to spread across the United States. Today there are more than 200 clubs in various cities in the US. In March 2013, Ms Bain and Ms Darville brought the organisation to the Bahamas, thereby becoming the first Pretty Brown Girl Club outside of the US. Locally, Pretty Brown Girl Club #14 meets monthly to inspire and empower girls.