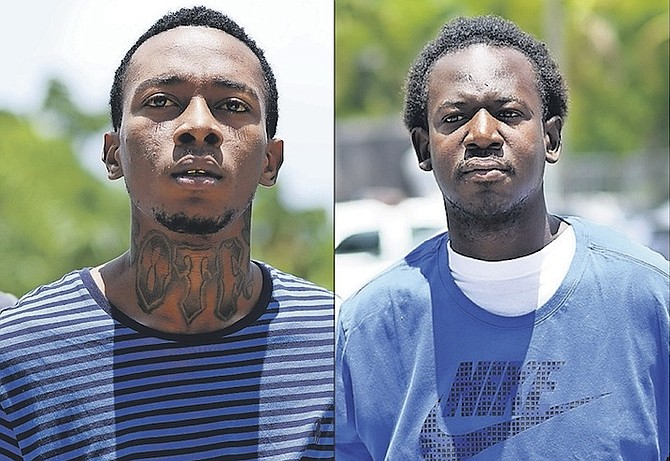 By LAMECH JOHNSON
Tribune Staff Reporter
ljohnson@tribunemedia.net
TWO men were remanded to prison yesterday after being arraigned in connection with two separate murders.
Michael Preval, 29, of Golden Gates stood first before Magistrate Constance Delancy accused of intentionally causing the death of Craig Davis on May 24 and was charged with murder under Section 291 (1)(B) of the Penal Code.
A charge under this section does not attract the discretionary death penalty if a conviction is reached at the end of the trial.
According to police, Davis was walking on Wulff Road when another man shot him after a brief exchange of words.
It happened around 6pm in the area of Wulff and Pinedale Roads.
Magistrate Delancy informed the accused that he would not be allowed to enter a plea because his case would be fast-tracked to the Supreme Court.
This would occur through service of a voluntary bill of indictment, scheduled for August 3. Preval has retained attorney Ian Cargill to represent him.
In the other murder arraignment before Chief Magistrate Andrew Forbes, 20-year-old Colin Storr Jr was accused of intentionally causing the death of Denero Burrell on May 5. He is also charged under Section 291 (1)(B) of the Penal Code.
Shortly after 11.30pm, Burrell was involved in an argument with another man at a park on Quarry Mission Road that led to him being shot. The suspect fled the scene on foot in an unknown direction.
The victim was rushed to hospital where he died of his injuries shortly after his arrival.
Storr, who was not represented in yesterday's arraignment, returns to Magistrate's Court on July 7 for the matter to be fast-tracked to Supreme Court where he will be allowed to enter a plea to the charge.
Storr and Preval were remanded to the Department of Correctional Services without bail, but have the right to make an application to the higher court.