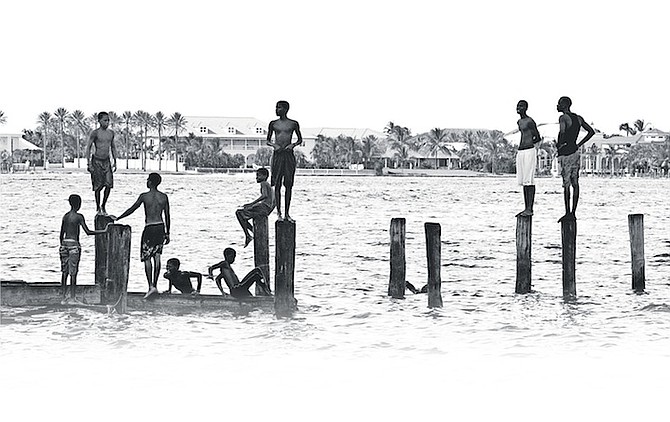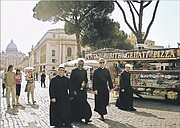 By JEFFARAH GIBSON
Tribune Features Writer
jgibson@tribunemedia.net 
BEING of both Italian and Bahamian heritage means that fine art photographer Tania Delmonte's view of the world is sometimes filtered through the lens of two cultures.
Her Italian heritage boasts a love of art and history, while the Bahamian part embraces the beauty and simplicity of island living, all of which makes it extremely hard for the Tania to pick a side.
And she believes she shouldn't have to, given that there is a richness and uniqueness to both heritages.
It is those qualities that she chooses to celebrate in her upcoming exhibition called "When the Mountains Meet The Sea".
The show has its official opening at the New Providence Community Centre's The Ladder Gallery on November 10 from 6.30pm to 8.30 pm.
"I was born in Castelfranco Veneto, Italy, a mere 50km from Venice. One can say that I was surrounded by art and natural beauty from birth. The need and the want to capture beauty must have started very early. One can also say because of my heritage, I belong to two worlds: the old and the new. The old because of my Italian father, the new because of my Bahamian mother. On one side there is the love of art and history, and on the other, natural beauty of simple island life," she told Tribune Woman.
"After my parents separated when I was 12 years old, my mother, sister and I moved to the Bahamas; it was a whole new world for me. I often feel torn between the two places, because I love and identify with both. A sort of schizophrenia of identity, but I embrace both sides fully."
At the exhibit, visitors can expect to see this love of both Italy and the Bahamas in her photographs on display.
"The title of the show is 'When the Mountains Meet the Sea', and I have given it that title because it celebrates both my heritages. My surname, Delmonte, means 'From the mountain', and of course the sea represents my Bahamian heritage," she said.
For as long as she can remember, Tania has had a love affair with photography.
"I can't pinpoint a time and place, only that with my first job, my very first purchase was a $70 point and shoot film 35mm Kodak camera. Yes, film; the days before digital and before smartphones. It is hard to imagine a time before digital photography. I just liked capturing moments, whether it was moments with friends or travelling to a new city. Capturing the essence and the mood of a certain place, freezing a moment in time. What started as a hobby slowly developed into a passion," she said. 
One of the things that makes photography so rewarding for Tania is the emotion she is able to evoke in others through the images she captures.
"I would like for my photos to evoke a feeling or a reaction in whomever is looking at them, beyond just the, 'Oh, that is a pretty picture'. So yes, I would describe myself as a fine art photographer not because the photo is a perfect, pristine shot, but because I got a reaction and stirred an emotion in the viewer. I hate perfection or glossed-over photos. I like freezing the moment, perhaps the thing that someone else has missed and therefore capturing something someone might have not seen. I don't like staged photos. I like when something is not so perfect, appreciating it for what it truly is," she said.
"For example, for the photograph of the boys on the dock (featured in the show), I was driving past Montagu Beach and I saw the boys enjoying the sea on a hot summer day. They were diving and having a good time, they were not attached to their smartphones; they were enjoying the beauty around them. You can see their expressions; they are having fun. I found it so refreshing that they were just enjoying themselves and not glued to their phones watching someone else live."
Tania said she hopes that her photographs will help people enjoy the beauty in small, simple things – "perhaps the things they may sometimes take for granted."
"I think the message would be to enjoy moments and try to savour them, to slow down and appreciate what is around them," said Tania. "Simple things – the colour of the ocean for example. One minute it is the colour of liquid mercury, the other it is a bright turquoise. Even the fallen leaf on the ground has its charm, the smile of a child, an interesting shadow on a pavement. So many people live at such a fast pace that something beautiful could be right in front of their eyes and they might miss it."