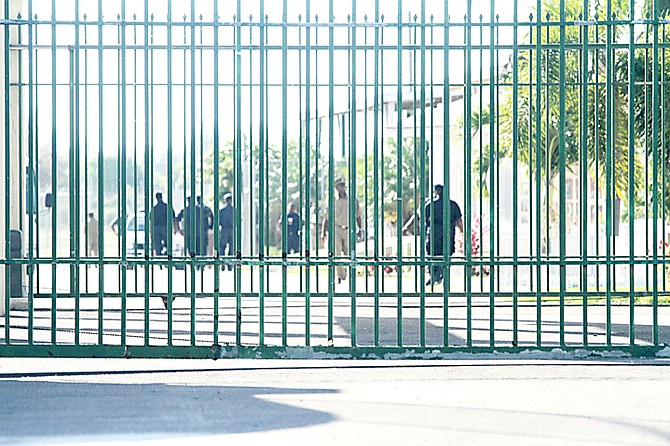 By AVA TURNQUEST
Tribune Chief Reporter
aturnquest@tribunemedia.net
POINTING to the landmark Court of Appeal ruling on the treatment of children in the justice system, child rights advocate and lawyer Tavarrie Smith called on Attorney General Allyson Maynard-Gibson to immediately relocate juveniles on remand at the Bahamas Department of Correctional Services.
Mr Smith said that every day that minors are detained at the facility exposes the government to liability.
The Court of Appeal ruling, handed down in September, indicated that children - including those charged with serious crimes - cannot be remanded to prison unless certain conditions are met. Those conditions include sworn testimony that a child was of so "unruly a character that he could not be safely committed to a juvenile correction centre" or "is so depraved a character that he was not fit to be so detained." The ruling pointed out that the Child Protection Act gave juveniles the right to be remanded to such a facility, and also noted that the right of a child to be separated from adults was included in the United Nation Convention on the Rights of the Child, of which the Bahamas is a signatory.
"That case said that it is illegal to detain a child at the Department of Corrections, if one of three criterion or categories isn't met," he said.
"There are a number of juveniles currently at Fox Hill, still there, and one of those three things has not been met with them. So if the attorney general is serious about juvenile justice reform, she would start taking efforts to move them now.
"We have another facility, we have the Simpson Penn Centre for Boys and the Willamae Pratt Centre for Girls. We don't need a working committee for that, we don't need consultation for that, the ruling by the Court of Appeal is extremely clear. If (juveniles) don't fit one of those three things, they cannot be there and so if she's serious she needs to move them and move them now."
He added: "Every day that they are there, the government is exposing itself to liability because I can assure you that there will be lawsuits coming based on the fact that they are still there."
The Tribune reached out to the correctional facility on Monday to determine the number of juveniles currently held on remand; however, no response was given up to press time.
In September, Mrs Maynard-Gibson told The Tribune that judicial procedures that govern the way juveniles would be processed and handled by the justice system going forward should be implemented "soon". She indicated that Director of Public Prosecutions Garvin Gaskin has for some time now been working directly on the project.
Mr Smith noted that while he has not met with the attorney general personally, he has met with some of her advisors and technical team who are working to gather all of the primary issues affecting juveniles in custody and create workable timelines for reform.
When asked for comment on those efforts, Mr Smith said: "I'm not entirely encouraged as yet and I think that's because as a country we always do this talk shop, committee meeting, consultation, kind of thing. We're experts at committees and consultations, that's who we are as Bahamians.
"But when I start to see some actual changes and movements taking place, then I'll start to give the attorney general some support," he said.
The ruling was spurred by a case involving a juvenile who, charged with armed robbery and possession of a firearm with intent to endanger life, was remanded to the Bahamas Department of Correctional Services in November 2014.
Last month, the London-based Privy Council quashed the murder conviction of a then juvenile, citing police detectives' failures to properly adhere to the Royal Bahamas Police Force's own guidelines concerning the treatment and questioning of juveniles in custody.
The Judicial Committee of the Privy Council noted that neither the testimony of police nor the detention record of the then 17-year-old Shavargo McPhee gave an explanation for the several periods McPhee was out of his cell during his 31 hours of detention before a confession was taken from him in the presence of a pastor.
McPhee, now 25, was convicted in 2011 for the November 2008 murder of Brendon Dion Strachan in Marsh Harbour, Abaco and sentenced to life in prison.