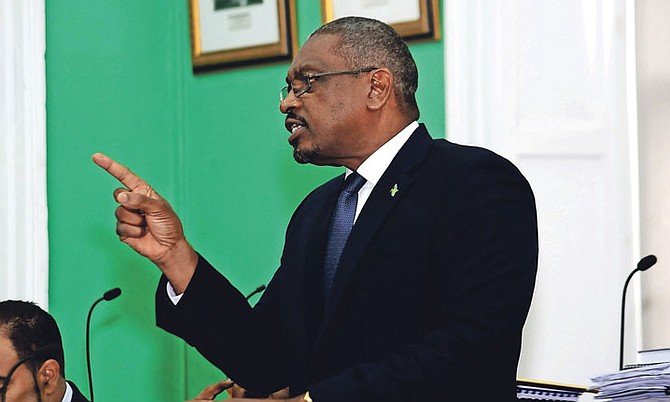 By AVA TURNQUEST
Tribune Chief Reporter
aturnquest@tribunemedia.net
FREE National Movement Leader Dr Hubert Minnis yesterday criticised the Public Hospitals Authority for extending its recent tender exercise for the "Provision of Medicines and Related Items" to international manufacturers.
Dr Minnis charged that the direct purchase of medication from manufacturers would have a destructive impact on local vendors and the industry.
"The PHA wants to purchase medication directly from manufacturers, bypassing the distributors and wholesalers," he said. "They have no provisions in place for storage, distribution and management of such facility. What will that do to local businesses?
"There will be no savings; they have to worry about storage, distribution and management, to find a way to prevent stealing, that would take away any profit they were hoping to make.
"But what they would have done is potentially destroy the local Bahamian industry and with improper storage of the medication, the potency or effectiveness of the medication may not be realised."
Dr Minnis, the former minister of health, was referring to a purported PHA memo that was sent to manufacturers. The memo stated that the PHA's tender exercise to local vendors "did not receive the requisite response."
It read: "To this end, the PHA is desirous of procuring these items via other methods, including but not limited to direct procurement from manufacturers.
"We are asking your company to confirm that you are willing and able to supply the following items in the listed amounts via a direct purchase from the PHA. Please see the attached list, and provide quotations for as many of the items you have available."
The memo underscored that quotes should be inclusive of all shipping and insurance costs, and that items quoted must conform to the laws of the Bahamas.
Manufacturers were asked to submit quotes no later than the close of business today.
Yesterday, Dr Minnis said: "Is this the start of government trying to destroy Bahamian businesses? It would appear that they have embarked on destruction of the small businesses as is seen with them attempting to go directly to the manufacturers, and what is seen as being done with the land in Andros and the production of farm products by the Chinese destroying the local farmers."
Dr Minnis was referring to a report published in The Nassau Guardian on Tuesday that indicated Chinese investors want to create an agro-fisheries project in Andros that would call for the lease of Crown land.
"This government is embarking on a destruction of Bahamian businesses as is seen with them moving to purchase medications directly from manufacturers," Dr Minnis added.
"This government must be removed before they destroy this Bahamas," he said.
The PHA declined to comment on Dr Minnis' accusations yesterday.