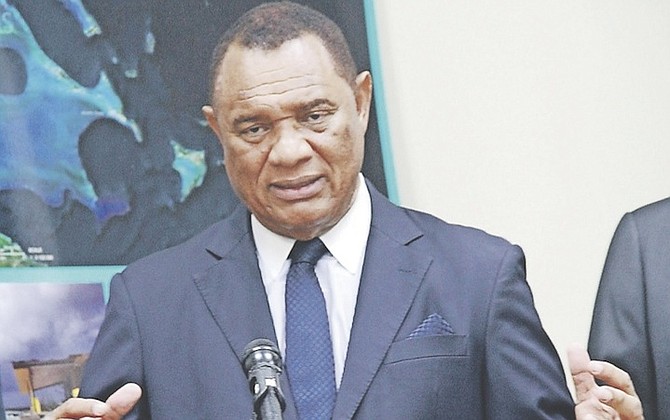 By RASHAD ROLLE
Tribune Staff Reporter
rrolle@tribunemedia.net
PRIME Minister Perry Christie is concerned about what the slowdown of the tourism sector in Grand Bahama in the wake of Hurricane Matthew could mean for employment on that island.
He said yesterday that the government is working to mitigate negative consequences, although it is unclear what steps could be taken to ensure that some of the biggest hotels on the island are quickly reopened and remain that way.
"Memories and the Lighthouse (Pointe), they're all closed," Mr Christie said, referring to Grand Lucayan Resort, the 519-room property consisting of the Breaker's Cay and Lighthouse Pointe, and the 496-room Memories Resort, which employs 500 people.
"It appeared on the face of it that there was a consideration to keeping them closed for a period of at least six months," Mr Christie said. "We are speaking to … the owners because the hotels are directly linked firstly to a major company called Sunwing (Airlines) that has the lease of Memories and they provide aircraft that fly from Canada and from the United States of America to Grand Bahama to keep Memories filled and other hotels on the island."
Mr Christie said while Sunwing believes in Grand Bahama's commercial potential, he is concerned that "any decision that could require hotels to be closed for a period of six months will mean they will have to stop all their flights going into Grand Bahama."
"That has enormous implications and so we are in hourly discussions with respect to this matter with a view to trying to affect a formula that will result in the bare minimum impact on the economy," he's said. "It's only necessary to get one or two of the hotels up. It is critical that we recognise the significance from an employment point of view of the tourism sector in Grand Bahama because that has enormous implications to people who work, people who need to live."
The Tribune understands that the Grand Lucayan Resort will re-open on November 7 and the Memories Resort will reopen on December 10.
Sunwing is expected to resume services on December 17 once Memories Resort reopens.
Nonetheless, Mr Christie said the government is looking for ways to stimulate the economy in the aftermath of Hurricane Matthew.
"We know that we have to spend money for restoration so the idea is to do so as effectively as possible, to create jobs in the construction sector and we are having the benefit of having an innovation of public-private partnership where the private partner would put up the money for the construction on terms with the government, enables the government to continue its work without adding to the debt burden. So we settled yesterday, a committee of Cabinet, chaired by myself, a number of such contracts. We're looking to do the same thing in Grand Bahama where a number of public sector contracts have been signed."
Mr Christie was speaking at a ceremony at the National Emergency Management Agency (NEMA) on Gladstone Road at which Mark Holowesko, Chief Executive Officer, Chief Investment Officer and Director of Holowesko Partners Ltd, presented a $50,000 cheque to NEMA and pledged another $50,000, once the need is identified, towards local relief and restoration folowing Hurricane Matthew.
The donation by Holowesko Partners Ltd to the disaster relief fund brings the amount donated to NEMA to an estimated $1.4 million.