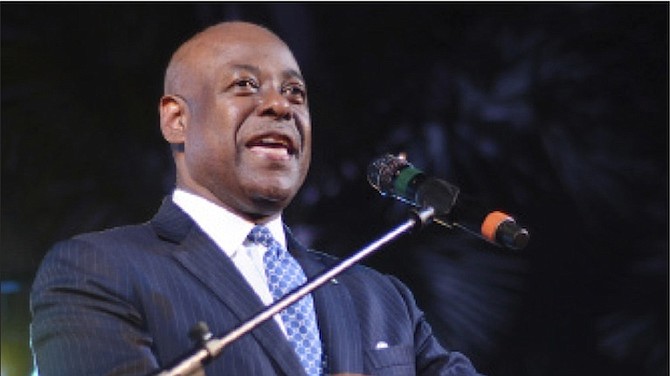 By RASHAD ROLLE
Tribune Staff Reporter
rrolle@tribunemedia.net
ASUE Draw & Spin, one of the eight web shop companies granted a provisional licence to operate in the country last year, has opted not to renew its provisional licence, effectively exiting from the sector, Tourism Minister Obie Wilchcombe confirmed yesterday.
Asue Draw had 21 locations, 31 agents and 86 employees.
And as the government gets set to issue official licences to approved gaming house operators, Mr Wilchcombe said the Christie administration will put in place a moratorium on web shops. The details concerning the moratorium are still to be determined, he said.
Asue Draw & Spin's decision not to renew its provisional licence comes as the lengthy regulatory process for determining which companies will be given official licences has come to an end. This was the final step in the process of regularising the web shop industry. The licences will be officially issued by November 11 to seven of the eight companies who were previously given a provisional licence.
"Asue Draw's decision to not file an application for renewal of the provisional licence was made by the company," Mr Wilchcombe said. "The company will have to explain its reasons. Their decision indicates that they have withdrawn from the business. We will allow for a seven-day period before beginning the process to fill the opening.
"What we are most proud of is that all of the companies, including Asue Draw, had become certified and compliant with the applicable technical standards imposed by the Gaming Act. What that means is that all the houses have cleared the final major regulatory hurdle in the regularisation process.
"The certifications were issued after exhaustive testing by BMM Testlabs or Gaming Laboratories," he said.
Representatives of Asue Draw & Spin could not be reached for comment yesterday.
Although the final regulatory step for issuing licenses is now complete, Mr Wilchcombe said the government will focus now on being vigilant in ensuring that web shops adhere to zoning rules.
"A core concern for the government is and will remain preventing undue proliferation of gaming houses," he said. "As now legitimate members of our business community, we want them to be successful but we do not want them to dominate the landscape. This is why we will diligently enforce the zoning regulations. We will also put in place a moratorium."
It is unclear if web shop operators are aware that the final regulatory step to obtain licences is complete.
FML Group of Companies CEO Craig Flowers said yesterday that he had not heard the news. However, his company paid its renewal fee for its provisional licence on November 1, the day it was due. The cost was $1.7 million.
He described the requirements of web shops as they awaited the official licence as highly burdensome. "We barely got by," he said, adding he would not be surprised if one of the other companies could not make it in the sector.