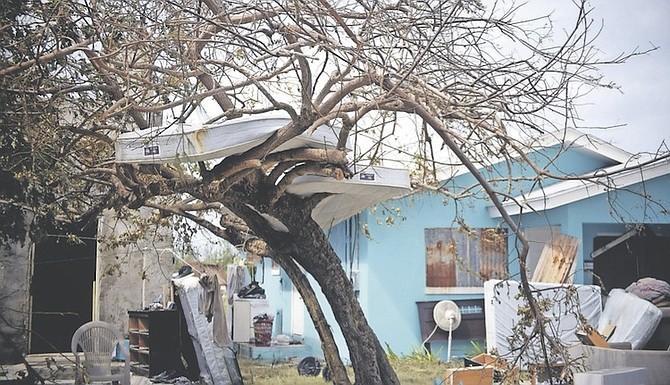 WITH donations pouring in from around the world in the wake of Hurricane Matthew, the need for transparency and accountability is critical if the Bahamas is to remain a reputable recipient of international beneficence, a group of civic leaders said yesterday.
"Never has the need for transparency been greater," said Joseph Darville, Chairman of environmental advocacy organisation Save The Bays.
"Since Hurricane Matthew, we have had many offers of assistance. We explain the needs, how many homes are without roofs, how many families have been displaced, how many businesses cannot open their doors because they were flooded and lost everything.
"But what we cannot explain when asked is who is overseeing efforts and what is the level of accountability?
"Donated goods come in but without a transparent government reinforced by Freedom of Information legislation, we cannot offer potential donors of large sums the comfort that we have legislation that would allow the public to see how funds were spent if we submitted a request."
The aftermath of the storm that levelled parts of Grand Bahama, Lowe's Sound, Andros and damaged much of the southern shores of New Providence rekindled the push for strong freedom of information legislation.
Save The Bays is one of 17 professional, civil society, environmental and business organisations that joined forces to push for the legislation. Government had promised to table a revised Freedom of Information Bill this month but postponed, blaming the delay on the storm.
Attorney Lemarque Campbell, president of Citizens for a Better Bahamas, said the cloud of secrecy that surrounds closed door deals and contract awards must end.
"There are only a handful of countries in the world in which the citizenry has no legislated rights to know what the government does," Mr Campbell said. "Unfortunately, that handful of countries that favours secrecy over transparency still includes the Bahamas. But I am confident that with all of our voices calling for true freedom of information we will get there. We just have to keep up the fight and not give up."
The groups that united over freedom of information also submitted comments on the draft bill along with several recommendations. Among the most important were an independent Information Commissioner with its own fixed budget and whistleblower protection
Others, including Organization for Responsible Government, are also lobbying for an ombudsman to liaise on behalf of the public, campaign finance reform and access to procurement contract processes.
The 17 groups calling for true freedom of information represent thousands. They include Citizens for a Better Bahamas, The Bahamas Chamber of Commerce and Employer's Confederation, Bahamas Federation of Retailers, We The People, The Abaco Chamber of Commerce, Save The Bays, The Nassau Institute, reEarth, Organization for Responsible Governance, HeadKnowles, Grand Bahama Human Rights Association, Waterkeepers Bahamas, The Bahamas Press Club, Our Carmichael, It's Our Turn and Young Marine Explorers.