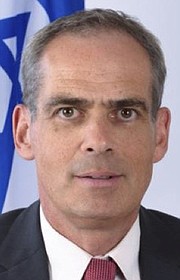 By NICO SCAVELLA
Tribune Staff Reporter
nscavella@tribunemedia.net
ISRAEL is seeking to forge "increased technological co-operation" with the Bahamas, an Israeli government representative said yesterday, who added that such a venture would be a "win-win" situation for both countries economically.
Jonathan Peled, Israeli ambassador to the Bahamas, told The Tribune that the Israeli government is interested in introducing and subsequently combining Israeli technology with "Bahamian talent" and "necessities," the end result of which he said would prove to be a "benefit" to both governments.
Fundamental to such an endeavour, Mr Peled said, would be Israel's increased co-operation with the Bahamas government on issues such as tourism, which he said is of "huge interest" to Israel, education, water management, agriculture, alternative energy, financial services, and cyber security.
Mr Peled spoke to The Tribune at the British Colonial Hilton, a day after meeting with Governor General Dame Marguerite Pindling to present his credentials as Israel's non-residential ambassador to the Bahamas.
Mr Peled said that on Wednesday, he met with numerous government officials, including Attorney General Allyson Maynard-Gibson, Education Minister Jerome Fitzgerald, and other high ranking officials throughout the Ministries of Finance, Foreign Affairs, and Tourism.
Mr Peled said the aim of those meetings from Israel's perspective was to begin discussions on how to best unite Israel's technical and technological savvy with the Bahamas' major economic sectors.

"What I think we have in common is that we're two small countries, and what we think can be of benefit to both countries is if we introduce Israeli technology and combine it with Bahamian talent and necessities here," he said. "You have a huge tourism industry here which is of huge interest to us, you have an important financial, offshore banking sector as well, and you have agriculture which is another necessity.
"So I think we can link into all three of these major economic sectors that the Bahamas has, and it's a win-win situation. It's where Bahamian business people can enjoy Israeli technology, and Israeli entrepreneurs and businesspeople can obviously do good business here. So as a government official, as ambassador, my job is to link up these different counterparts, these different partners, get them together and hope that they can do good business for the benefit of both sides."
Israel, a Middle Eastern country on the Mediterranean Sea, is a world leader in technology, reportedly boasting the leading number of scientists and technicians in the workforce, with some 145 per 10,000 people. Additionally, over 25 per cent of the country's workforce is reportedly employed in technical professions.
"Israel has no natural resources, that's why we had to develop our human resource," Mr Peled explained.
"That's why we slowly became one of the leading technological countries in the world, considered the startup nation. We had no water, we had no land, we had no energy or fuel or minerals, so we found ourselves in a necessity of developing the only resource which is the human resource.
"I think the Bahamas in many ways has the same challenge. So what we can offer the Bahamas, are our technologies, our human talent, our human resources.
"Especially in issues like, for example, scarcity of water, or water management, or alternative energy, or how to yield more crops or better crops from certain amounts of land.
"So the same challenges that you face we've already faced, and some of them we've even overcome.
"So that's where we can share our knowledge: water management, agriculture, alternative energy, tourism to a lesser extent, finances and banking, there's a lot going on in terms of cyber security. Israel is the leader in cutting edge technology in terms of cyber security, how to safeguard big data, financial information, how to protect critical infrastructure in terms of threats and attacks, cyber oriented."
He added: "I think there are certain things we can share with the Bahamas in terms of our educational system, especially when it comes to science and technology education, how to implement more innovation into the educational system.
"At the end of the day we're open to any kind of exchange. At the end it's an exchange of ideas, of best practices, sharing knowledge information, and it's a win-win for both sides."