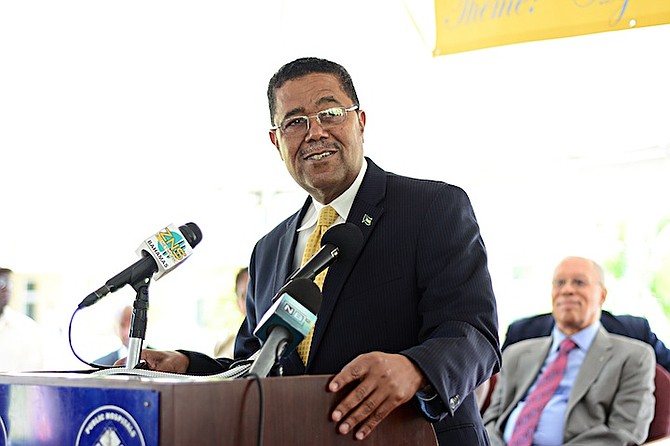 By KHRISNA VIRGIL
Deputy Chief Reporter
kvirgil@tribunemedia.net
HEALTH Minister Dr Perry Gomez admitted on Friday that due to Hurricane Matthew, which caused damage to public buildings including clinics, it was likely that the implementation of phase one of National Health Insurance (NHI) would be "slightly" delayed.
However, when he was asked to elaborate, the minister said: "I don't have a fixed time, but it will be a slightly delay."
On further probing, Dr Gomez insisted that despite having there being only six months until the general election, the rollout of primary care of NHI was still possible within this term.
"No it's (the question of delaying NHI) not been discussed," Dr Gomez said on the sidelines of a tour of the Public Hospitals Authority's (PHA) new Supply Chain Management Agency on Shirley Street.
"But it may be logical that there may be some slight delay because of the hurricane."
In August, Prime Minister Perry Christie defended his administration's handling of NHI and insisted that while the process has been delayed, he hopes the government is able to roll out the primary care phase by January, 2017.
But when he was asked about delays on Friday, Mr Christie skirted around the question and gave no definitive answer in this regard.
In March, Dr Gomez estimated that the primary care phase would be delayed by "around six months or so". At the time this phase was to begin in April.
His statement came at a time when government consultants from KPMG said it would be months before primary healthcare services are offered.
Government consultants have said NHI cannot be fully implemented in the absence of a public insurer.
The government estimates that primary health care services will initially cost about $100m, a figure verified by its consultants Sanigest Internacional and KPMG.
The government allocated $260,320,960 for NHI and the PHA in the 2015-2016 budget, up from the $200m allocated to the PHA the previous fiscal year.
Mr Christie said last year that $60m of the 2015-2016 allocation would be used to prepare the health sector for the introduction of NHI through infrastructural upgrades and improvement of services.
Also in the 2016-2017 budget, $2.5m is allocated under the Office of the Prime Minister for the NHI Secretariat.
Mr Christie was criticised for not divulging many details concerning NHI during his budget communication on Wednesday. Though he reiterated his commitment to implementing the scheme, he did not discuss costing or time lines.