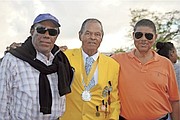 IT is never too late to start something new and the legendary entertainer John "Chippie" Chipman, 88, proved that as he recently hosted his first ever birthday bash on the historic plantation grounds opposite Arawak Cay.
The site is a part of his family's heritage, and he thought it would be the perfect location for a major birthday bash. Before this year, Mr Chipman would have birthday celebrations through the former Lifebouy Street, now John Chipman Street where he lives. But it became quite obvious that the amount of offspring he has produced, combined with the children of the community who usually invade his yard, and the many friends he has from all walks of life, would make it hard to sustain the event in that area.
The birthday bash featured multiple tents offering free food. Children played with balloons and toys to entertain themselves until the much anticipated birthday rush-out.

Mr Chipman wore his Junkanoo Hall of Fame Jacket, emblazoned with his medal, Member of the British Empire (MBE), from Queen Elizabeth. Minister of Youth, Sports & Culture Dr Daniel Johnson attended the bash and commented that it is important to honour the great works of the living legends amongst us.