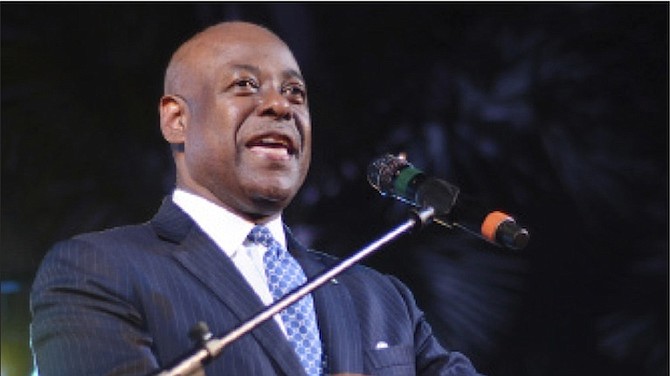 By KHRISNA VIRGIL
Deputy Chief Reporter
kvirgil@tribunemedia.net
THE government has still not received a letter of intent from prospective buyer of Baha Mar, Hong Kong-based Chow Tai Fook Enterprises (CTFE), to operate the casino at the $3.5bn West Bay Street development, according to Tourism Minister Obie Wilchcombe yesterday.
The minister, who has responsibility for gaming, said this is because CTFE is in the midst of "finalising arrangements with the state, the Bahamas government and the operators" of Baha Mar.
Once this phase is complete, Mr Wilchcombe said he expects to receive the LOI at "any moment now".
Last week, former Baha Mar Director Dionisio D'Aguilar charged that CTFE was "unsuited to invest in The Bahamas".
He went on to raise alarm over the Cheng Yu Tung family's inability to obtain casino licensing in two US states, and its alleged "well-documented connection to organised crime in Asia".
The "well-documented connection" likely refers to the Cheng family's – owners of CTFE – link to billionaire Stanley Ho through its stake in Macau group STDM.
Mr Ho and his associates have reportedly been unsuccessful in attempts to expand gaming interests into Australia, Canada and other countries due to alleged associations with Chinese triad gangs in his Macau casinos.
At the time, Mr Wilchcombe insisted that upon receipt of the LOI, the government would begin due diligence on the Hong Kong conglomerate to ensure that any decision made is in the best interest of the country, the Bahamian people, and the gaming industry.
He explained that the government had only had two preliminary meetings with CTFE.
"We have had preliminary meetings with the group," Mr Wilchcombe told The Tribune. "We are aware that they are operating in several countries as partners in casinos, and as operators in others.
"We've met with them twice, just to determine the extent of their involvement globally. They have major brands under their company, so we were very enthused by that," he said previously. "Of course we will do our due diligence to ensure whatever decisions are made, are made in the interest of not only the Bahamas and Bahamian people but also the integrity of Bahamian gaming jurisdiction."
In late October, Mr Wilchcombe said the due diligence process will take at least three weeks.
CTFE later refuted assertions that it was "unsuited to invest in the country," stating its commitment to integrity and good governance in business operations worldwide.
The enterprise said it has never applied for a casino licence in the United States, and as such, has never been denied by that jurisdiction.
CTFE emphasised that it is a privately held business that identified the Bahamas as a "unique growth opportunity."
CTFE said: "CTFE has never applied for a casino license in the US and, a consortium including CTFE has just been approved for the granting of a casino license in Queensland, Australia.
"Further, the Cheng family is an investor in Sociedade de Turismo e Diversões de Macau (STDM), which owns the gaming subsidiary, SJM Holdings Ltd (SJM).
"In addition, the Cheng family's role in the Macau casino is strictly as an investor with no involvement in day-to-day management of the casino or oversight of the gaming industry in Macau.
"As a company, we are committed to integrity and good governance in all of our business operations worldwide. There will be no affiliation on this project with STDM or SJM," the conglomerate added.
It was revealed that CTFE was in talks over the troubled Cable Beach resort two weeks ago in a statement issued by the Hong Kong-based firm.