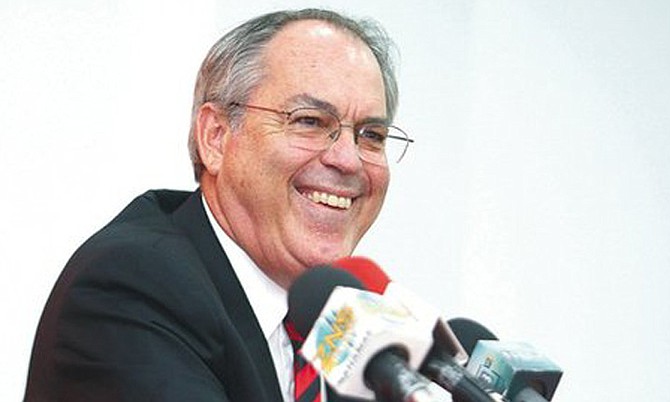 By KHRISNA VIRGIL
Deputy Chief Reporter
kvirgil@tribunemedia.net
FREE National Movement Chairman Sidney Collie and former Deputy Prime Minister Brent Symonette yesterday refused to confirm or deny that the latter is under consideration for a run in the St Anne's constituency, amid speculation that he could make a surprise political comeback ahead of the 2017 general election.
Asked about his political prospects yesterday, Mr Symonette remained tightlipped saying: "When and if I am going to run in any constituency I will let you guys know."
Mr Symonette represented St Anne's during the previous Ingraham administration.
When contacted, Mr Collie said he was refusing to answer any questions focused on Mr Symonette's future in front line politics with the FNM.
Instead, the chairman said the party will ratify three of its remaining six candidates for New Providence next Tuesday. The FNM will then turn its attention to Abaco, Eleuthera and Grand Bahama, with a time-line to complete candidate ratifications by the second week in December.
He said the party is also preparing itself in the event there maybe drastic changes to the constituency numbers when the Constituencies Commission completes its work. It is unclear when the commission will finish.
"We are hearing rumours that the St Cecelia (constituency) is coming back and so is St Thomas More. That Centreville might be split, and also that there might be another seat in Exuma, in Grand Bahama, North Andros and Berry Islands," Mr Collie told The Tribune.
"There might also be another seat in Long Island. The Constitution only speaks to a minimum of 38 seats so they are able to add as many seats as they would like."
Speculation of Mr Symonette's political future was fuelled this week after party sources told this newspaper that radio talk show host Jeff Lloyd was selected by the party as its standard bearer for the South Beach constituency.
It is said that Mr Lloyd will be ratified next week.
The attorney said last month that he was under "active consideration" but had yet to receive an official offer, although there was speculation that he would run in the St Anne's seat which had become available after Hubert Chipman, the sitting MP, had withdrawn his name from candidacy amid differences with the FNM's leadership.
On Wednesday night, according to senior sources in the FNM, the South Beach Constituency Association met FNM Leader Dr Hubert Minnis and were informed of Mr Lloyd's candidacy.