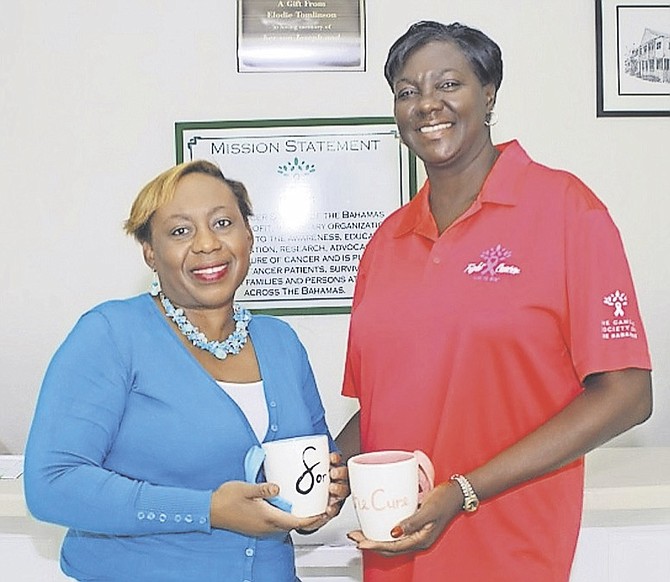 When Gina Smith discovered a lump in her breast a few years ago she found herself in a predicament that many Bahamian women face: she did not have enough money and health insurance to immediately cover the expenses of a mammogram.
In Ms Smith's case, she was fortunate that the lumps in her breasts turned out to be non-cancerous. However, for thousands of other women in this country the diagnosis is more dire.
Fully aware of this reality Ms Smith, who is a culture ambassador, artist and entrepreneur, decided that she wanted to do something to assist women who may not be in a position financially to have a mammogram screening. 
As the owner of Cultureware, a local dinnerware line, Ms Smith designed mugs dedicated to breast cancer awareness. Twenty per cent of proceeds from the mugs are donated to the Cancer Society of the Bahamas. 
"This mug was designed and a sample was made almost 10 years ago but never produced. Two things initially inspired me to design the mugs. First, I recognised that a disproportionate number of Bahamian women were dying soon after being diagnosed with breast cancer and leaving young families behind. Secondly, my personal ordeal which thankfully turned out differently," Ms Smith said.
"I realised that so many women like myself who discover a lump do not even have the funds to immediately go and check it out or can afford medical attention to determine if it is cancerous or not, that's why I now choose to partner with the Cancer Society. We don't need to lose another mother, father, grandmother or grandfather whose life is cut short due to this disease. We cannot ignore or simply accept it. We have to fight back and we have to find the cure and we need the funds to help."
The words "For the Cure" are engraved on the mug with the letters "F" and "E" designed to resemble the breast cancer awareness ribbon.
Ms Smith said the Cancer Society's initial response to the initiative has been "very encouraging".
She added that when it comes to issues such as breast cancer, it is important that members of the public offer ongoing support.
"The mug is one-of-its-kind in the world. It has been designed by a Bahamian, but most importantly, we will be assisting the Cancer Society of the Bahamas in helping a lot of Family Island persons who have been diagnosed with the disease to come to New Providence for medical assistance," Ms Smith told Tribune Health.
"(I want) to encourage the ongoing donations and the consistent support for the fight and cure of cancer. Sometimes we start to give but then we stop, forgetting about the many needs that still exist. There are children that are being displaced and left orphans. We have to fight back and we have to find the cure and this takes money."
The mugs can be purchased or ordered directly from the Cancer Society of the Bahamas.
Companies that purchase 10 mugs or more will receive free delivery. 
For more information, contact Gina Luree at 544-0442 or e-mail culturewarebahamas@gmail.com.