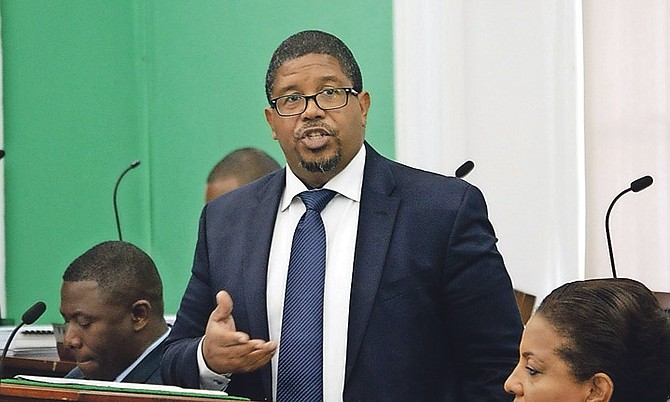 By RICARDO WELLS
Tribune Staff Reporter
rwells@tribunemedia.net
AS concerns grow over low voter registration numbers, Free National Movement Deputy Leader K Peter Turnquest has suggested a list of changes he thinks the Parliamentary Registration Department should adopt as it aims to increase registration numbers ahead of the upcoming general election.
In a recent interview with The Tribune, the East Grand Bahama MP insisted that the "generally low" registration numbers are due to several issues plaguing the Parliamentary Registration Department, such as the confusion about which documents are essential to the process. Mr Turnquest said the renewed effort by the Attorney General's Office to simplify this aspect of the process could see a significant rise in the number of registered voters in the coming weeks, as the lack of clarity over what documents are required led to the turning around of scores of eligible voters.
That matter once corrected, according to Mr Turnquest, should see an up-tick in voters from the Family Islands and inner-city communities in New Providence, as these were the groups most affected by the lack of clarity in this area.
"Differing requirements from location to location and returning officer to returning officer has been an issue," said Mr Turnquest. "There is no doubt that the public has concerns with the entire political process and how they fit into that system. They have questions over who will be the ratified candidates for their constituency and where the boundary for those constituencies will fall," he added.
"They do not want to have to go back to the Parliamentary Registrar Department to do the process over again to change constituencies or to pick up cards. If they could register and pick up a card at the same time this would help."
He continued: "Night and off site registration has not been as robust as needed. For instance, there should be a permanent registration desk at the Passport Office, Road Traffic and National Insurance as people usually have their identity documents with them at these offices making it convenient."
Mr Turnquest, however, did offer some suggestions to further alleviate the issues presented to date.
"Technology offers us a tremendous opportunity to modernise the entire process," he said. "For instance, eligible voters ought to be required to provide proof of citizenship only once in their lifetime, at the age of 18. Once that is done, for subsequent elections it ought to merely be an issue of verifying an address for purposes of assigning persons to a constituency and poling division.
"A simple driver's license could provide that proof if it would contain a person's address in the data fields. That same driver's license could replace the actual voter's card as proof of identity on the day of election when presented to the returning officer who would verify it via a card reader connected to the central registry and cross-referenced to other data."
Mr Turnquest added that the country must also look at the possibility of electronic voting to cut the inconvenience of long lines and voter intimidation.
"Unique identity data could be implemented to ensure a voter is registered, that he only votes once and that he can only vote once from a location or device. Technology offers us the ability to be so much more efficient in this entire process," he said.
Mr Turnquest now joins former National Security Minister Tommy Turnquest, who last week Thursday voiced his concern with registration numbers, calling on the government to expand registration drives throughout the country.
Stopping just shy of blaming voter apathy for low numbers to date, the former Mount Moriah MP said new and innovative strategies had to be employed to attract those persons "needing that extra push."
Attorney General Allyson Maynard-Gibson last week said that Parliamentary Commissioner Sherlyn Hall had accepted legal advice that will allow Bahamians to use their voter's cards from a previous election to register to vote for next year's general election without requiring a passport or a birth certificate unless the commissioner specifically demands that one be produced.
The move was made as concern grew over low voter registration numbers to date.
Early last week, The Tribune reported that nearly 57,000 people had registered to vote, a lower figure compared to this same period before the 2012 general election.
A further review of the Parliamentary Registration Department's statistics on voter registration has revealed that 77.2 per cent (43,864) of eligible voters in New Providence have registered; 7,707 (13.6 per cent) in Grand Bahama and 5,225 (9.2 per cent) in the remaining Family Islands as of November 4.
The 2012 voter registry consisted of 172,000 voters countrywide, 134,000 of whom had registered by this point in 2011.