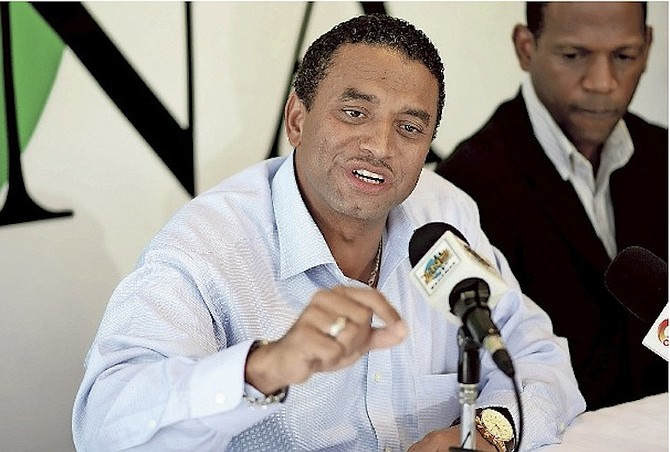 By KHRISNA VIRGIL
Deputy Chief Reporter
kvirgil@tribunemedia.net
DEMOCRATIC National Alliance Leader Branville McCartney yesterday demanded the Christie administration reveal to Bahamians whether it has done due diligence in probing the dealings and business connections of proposed Baha Mar purchaser Hong Kong-based Chow Tai Fook Enterprises (CTFE).
While CTFE was said to be highly qualified to purchase and operate the $3.5bn resort, Mr McCartney raised concerns over the enterprise's alleged "deep rooted relationships to elements of organised crime" that continue to come to light.
The former Bamboo Town MP insisted that Bahamians deserve to know who is being brought into the country in the name of foreign direct investment. He said the Progressive Liberal Party government was duty bound to make public the track record of CTFE and its past relationships.
The family of the late Cheng Yu Tung, who was a jewellery tycoon and a Hong Kong billionaire, owns CTFE. It has been speculated that the Cheng family is linked to another Chinese billionaire, Stanley Ho. This relationship was the subject of an exposé published in Australia's Sunday Morning Herald in August 2014.
Mr McCartney said in a press statement yesterday: "The DNA notes that the responses from Chow Tai Fook and members of our government have been to try to whitewash the facts and concerns of the public by simply suggesting that the principal owners of Chow Tai Fook, who are the Cheng family, are simply investors in enterprises of another one-time rumoured purchaser of the Baha Mar, Stanley Ho. Ho, as was published locally, has had regulatory and legal issues worldwide, including the United States, with respect to his alleged criminal associations.
"However, it appears that our bumbling PLP government, in their zeal to have this resort completed and opened before the next general election, has failed to do their due diligence on Cheng, as this excuse of being nothing more than a passive investor in Stanley Ho's casinos is specious at best.
"Beyond his substantial investment—and directorship—in the Ho casinos which he has held for 34 years, Cheng holds no fewer than six partnerships with Ho in Macau, including Heng Seng Bank, the target of a United States investigation of money laundering for North Korea, as well as Macau's dog race track, its horse racing track, its sports book, and ferry lines. The public record is crystal clear on all of these relationships.
"If Cheng is only an 'investor' in these enterprises, what does this say about their lack of due diligence?"
At that time of the published article in 2014, CTFE was part of a joint venture to bid for the Queen's Wharf Casino in Brisbane.
Cheng Yu Tung acquired a 10 per cent stake in STDM, the Macau group which operates about half of the legal casinos in Macau, in 1982 and still holds this stake today.
A company owned by Mr Cheng's family also recently spent $1 billion to buy the largest casino junket operator in Macau.
The article states that Mr Ho owns a majority controlling stake in STDM, of which Cheng Yu Tung owns a 10 per cent stake, and other assets in Macau and Hong Kong. It said furthered that Mr Ho and his associates have been unsuccessful in attempts to expand gaming interests into Australia, Canada and other countries, and that the repeated rejection by casino regulators in Australian states and Canada was based on reports from "law enforcement agencies and other sources that have found him to be associated with Chinese triad gangs in his Macau casinos."
"We have seen what corruption and the drug trade did to our beloved country under the reign of Sir Lynden Pindling in the 1980's," Mr McCartney added. "It now appears that this PLP government, under the stewardship of Prime Minister Perry Christie is attempting to one-up his political mentor as he continues to shuffle his way through in what can assure him will be his last few months of public office.
"The DNA is once again raising the alarm as to this administration's instance on Chinese investment, at the detriment to our national sovereignty.
"The PLP should come clean with the Bahamian people, reveal all their secret dealings with the Chinese, and announce the date for the next general election, so we can finally put these dark years of 2012-2016 behind us.
"The DNA stands ready to provide good governance to the people of this country, and we invite the Bahamian people to stand against this administration that is clearly not governing in our best interest."
Mr McCartney is the latest politician to raise questions over CTFE's business dealings.
Last month, former Baha Mar Director Dionisio D'Aguilar and Free National Movement candidate for Montagu, declared that CTFE is "unsuited to invest in The Bahamas."
In a missive directed at PLP Chairman Bradley Roberts, Mr D'Aguilar pointed to CTFE owners' reported inability to obtain casino licensing in two US states, and its alleged "well-documented connection to organised crime in Asia."
Responding, CTFE later denied these assertions and stated its commitment to integrity and good governance in business operations worldwide.
CTFE said it has never applied for a casino licence in the United States, and as such, has never been denied by that jurisdiction.
It further emphasised that it is a privately held business that identified the Bahamas as a "unique growth opportunity," seeking to address suggestions that it had links to the Chinese government.
The Hong Kong based firm revealed last month that it was in talks over the shuttered Cable Beach resort.
However, Tourism Minister Obie Wilchcombe, with responsibility for gaming, has said the government has yet to receive a letter of intent from CTFE to operate a casino in the country.
He has told The Tribune that the government intends to ensure due diligence takes place before any licence to operate Baha Mar is issued. This, he said, is expected to take around three weeks to complete.