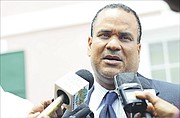 Some 16 per cent of troubled borrowers targeted by the Government's revised Mortgage Relief Plan have been enrolled in the scheme, a Cabinet Minister yesterday saying it had already been "more successful" than the first version.
Michael Halkitis, minister of state for finance, said 190 borrowers had been placed into the scheme to-date, with 64 per cent of those deemed eligible had been contacted by the various commercial banks.
Mr Halkitis, who was addressing the Bahamas Institute of Chartered Accountants (BICA) Accountants Week conference, said the Government was also discussing other legislative initiatives with the banks.
These, he said, were designed to give borrowers additional safeguards, while amending the rules governing non-bank lenders to ensure Bahamians have more protection from abusive credit practices.
"Compared to the initial initiative, which had a success rate of less than five enrolments, the revamped Mortgage Relief Plan is more successful thus far," Mr Halkitis said.
"To date, some 1,160 or 64 per cent of the total potentially eligible, 1,826 borrowers, have been contacted by the banks, and some 190 or 16 per cent enrolled to-date."
The Government's critics will likely argue that the 190 figure is still a long way short of the 1,826 targeted by the revised plan, and the 1,000 that the original scheme sought to help.
The Christie administration, though, can counter that the plan is successful if it secures just one Bahamian family in their home, let alone 190.
The Government committed $10 million to its initial Mortgage Relief Plan in 2012, which was supposed to benefit around 1,000 out of an estimated 4,000 delinquent homeowners.
Back in May, Prime Minister Perry Christie announced plans to revive the scheme, modelled after the US mortgage assistance plan, in collaboration with the Clearing Banks.
He confirmed that the new scheme would cost taxpayers $20 million over four years, and it was designed to assist borrowers more than 90 days past due as of May 2016. Eligible borrowers who have an ability to pay could qualify for a 20-25 per cent reduction in monthly payments, and are required to attend a financial counselling programme.
Mr Halkitis yesterday said that while there has been a sustained improvement in loan delinquencies since 2015, total arrears in the commercial banking sector, standing at $1.19 billion ,remain at an elevated 19.1 per cent of total loans. Mortgages account for the bulk at nearly 55 per cent of this sum.
"This has always been a concern for the Government as persons, through no fault of their own, were often faced with the prospect of losing their homes," Mr Halkitis said.
"While getting persons back to work will provide much needed relief to many, the Government has always recognised the need for some assistance mechanism that would close the gap in their ability to service their debt and reduce the risk of loss.
"This remains the driving rationale behind the Government's recent launch of the revamped Mortgage Relief Plan, which was modelled after the US mortgage assistance plan and designed in co-operation with the banks."