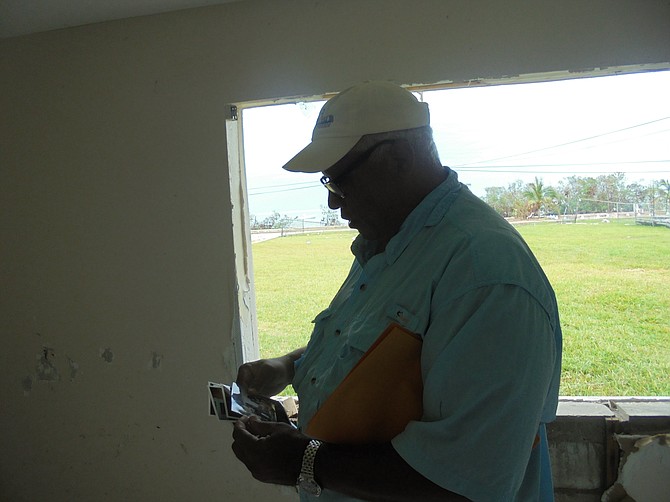 By DENISE MAYCOCK
Tribune Freeport Reporter
dmaycock@tribunemedia.net
SEVEN weeks ago, Keith Cooper and his wife, Linda, were enjoying life.
They lived comfortably in a modest, but nice home, and operated a successful eco-tour business in West End, Grand Bahama.
But that all changed on October 6 when Hurricane Matthew pummelled their home and damaged their eco-tour boat. It was a hard blow even for this tough couple who had served many years in the US military before retiring to West End.
The Coopers, like so many other families in the area, have been displaced by the storm. Their house was flooded by storm surge and everything was destroyed – furniture, appliances, and their personal belongings ruined.
And if that wasn't enough, looters went into the home and stole the couple's scuba gear, fishing rods, and other equipment used for their eco-camp children's programme in West End.



Yet, despite their loss, the couple has put the needs of others above their own. The Coopers have been busy distributing food and relief supplies to persons in their community.
When The Tribune visited West End this week, Mr Cooper gave a tour of his damaged home. The roof and building structure were still intact, but storm surge had knocked out the front doors and windows.
The Coopers stayed at a friend's house to ride out the storm. When they returned, their worst fears had been realised.
"My wife and I are military bred, but we both cried," he recalled. "Our home is completely destroyed and everything we ever owned is ruined. And my boat I used for our tours was flipped upside down, and the boat's engine was in the water.
"Everything was just a big mess when we saw it and we thought that there is no way we will ever get this fixed ourselves," he said.
Volunteers came down from Atlanta, Georgia and helped them clean out the house, and another young man helped clean their yard.
"The damage is quite extensive, and we don't know if we are going back in there again because it has been hit before with damage," Mr Cooper said.
There were huge holes in the drywall and all their new appliances were ruined by salt water.
"I had just bought thousands of dollars of stuff – a new TV, washer and dryer, and new business cards, brochures, and all of that got ruined," he said.
As he walked through the house, he went into a room that was used as an office. He found some old photographs of himself dressed in military fatigues, with friends. There was also a photo that had been taken a long time ago at American musician Jimmy Buffett's home in Palm Beach, Florida. He was fortunate that had not been ruined too.
Mr Cooper's eco-tour business has suffered as well. The West End Ecology Tours offers a unique eco-tour experience to visitors, which includes hand-feeding stingrays in their natural environment, Lionfish spear hunt, and a trip to Sandy Cay.
Business was very good, and he has been getting calls from visitors about when the tours will resume.
"We can't go out and do the things we need to do because we have to wait until I can get the boat's engine replaced and some minor repairs done on the boat. People are contacting me saying they want to go feed the stingrays, and so I have to get myself and my life back in order," Mr Cooper said.
The Coopers are staying temporarily at the Blue Marlin Fishing Lodge.
"The owner has been kind enough to let them stay there until we can get ourselves caught up," he said.
Rebuilding in the West End is not in full swing yet, and Mr Cooper is concerned that the 180-day exigency period is too short.
The exigency order allows for the importation of hurricane supplies, building materials, furniture, and vehicles, duty-free and VAT-free. The order commenced October 7, 2016, and expires April 4, 2017.
"I do believe we will need some more time. They might have to extend it because if the time expires it might hurt some people who may not be able to take advantage of duty-free and VAT exemptions," he said.
"We will probably have to ask government to extend it for at least a year so that it will give people a chance to catch themselves and regroup the right way," he said.
And in the midst of all his loss, Mr Cooper is very grateful for the outpouring of kindness and generosity extended not only to him, but also to the residents of West End from persons locally and abroad.