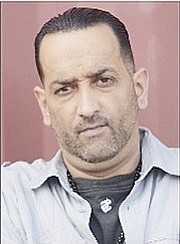 By Inigo 'Naughty' Zenicazelaya
WE Bahamians love us some Thanksgiving and, despite it not being an officially recognised holiday as it is in the USA, we follow suit in every other way.
We consume turkey and pumpkin pie in massive proportions, and creatively 'tote' more than our fair share in 'leftovers.'
We also consume sports in abundance, three helpings of NFL football, college football and basketball, all we can watch.
Don't take my word for it, have a gander at the Thanksgiving sports 'smorgasbord buffet' on TV below.
NFL
FOOTBALL
10:30am — Minnesota Vikings at Detroit Lions, CBS
2:30pm — Washington Redskins at Dallas Cowboys, FOX
6:30pm — Pittsburgh Steelers at Indianapolis Colts, NBC
COLLEGE
FOOTBALL
5:30pm — LSU at Texas A&M, ESPN
MEN'S
COLLEGE
BASKETBALL
10:30am — Indiana State
vs Iowa State, ESPN2
10:30am — Temple vs
Florida State, ESPNU
12:30pm — Stanford
vs Miami, ESPN2
12:30pm — Illinois vs
West Virginia, ESPNU
2pm — Montana at Ole
Miss, SEC Network
2:30pm — New Mexico
vs Virginia Tech, ESPN
4:30pm — Gonzaga vs
Quinnipiac, ESPN2
6pm — Butler vs
Vanderbilt, FS1
6:30pm — Seton Hall vs
Florida, ESPN2
6:30pm — Dayton vs Nebraska, ESPNU
7:30pm — Drake vs
Iona, CBS Sports Net
8:30pm — Santa Clara
vs Arizona, FS1
9pm — Portland
vs UCLA, ESPN2
10pm — UC Davis vs
Weber State,
CBS Sports Net
Glued in front of the TV is the only place a 'real' sports fan needs to be. Or you can take in some of the college basketball action live, at one of the, if not the premier NCAA pre-season basketball tournament 'Battle 4 Atlantis' and still get back home in time for some 'leftovers' and a second or third helping of pie, before the final NFL football game.
Yes, I must see coach Tom Izzo and the Michigan State Spartans, with our 'homeboy' Bahamian Lourawls 'Tum Tum' Nairn running the point for the 14th ranked Spartans. Interesting note, the Spartans trail the 13th ranked Louisville Cardinals coached by the Rick Pitino in the preseason polls.
Pitino and the Louisville squad are also here for Battle 4 Atlantis. I will be glued to their game on day two of Battle 4 Atlantis and hopefully we can see a Michigan State-Louisville final.
Also, a day two must is to get an interview and a few photo ops with St John's head coach Chris Mullin.
Mullin is a Big East Conference legend, as well as a member of the NBA's Hall of Fame (20011) NBA Top 100 of all time, multiple NBA All star appearances and a member of the original USA Olympic 'Dream Team.'
As a young 'hoopster' I enjoyed watching Mullin play and admired his game.
This is going to be another awesome Battle 4 Atlantis!
Contact the Atlantis Box Office 363-6601/02 for game tickets and group rates. (Single game tickets starting as low as $15)
• Check out the full
Battle 4 Atlantis
games bracket
on the right:
My Thanksgiving
Sports Itinerary
12:00pm - Battle 4
Atlantis - Wichita St
vs LSU
2:30pm - 4:20 'Pig out' and some '12oz curls' (cold brewskies)
4:30pm - Washington
Redskins vs Dallas
Cowboys.
7pm - Battle 4 Atlantis - Michigan St vs St John's University. (Bahamian Lourawls 'Tum Tum' Nairn starts at PG for Michigan State)
9:30pm - Remainder of the Pittsburgh Steelers vs Indianapolis Colts.
11:30pm - First official 'turkey' sandwich after Thanksgiving dinner, and seconds and thirds, followed by more pie.
You don't have to follow my charted course, you can chart your own, just indulge and enjoy responsibly and may your team win, except if you're a Redskins fan of course!
Until next week, I will leave you with this:
"It's not happy people that are thankful. It's thankful people who are happy" and a famous Thanksgiving quote from Charlie Brown and the rest of the Peanuts gang, (you know I have to find time to get in the Charlie Brown Thanksgiving Special on NetFlix with my sons at some point. It's tradition.)
"May your turkey be plump, may your potatoes and gravy never have a lump! May your pies take first prize and may your Thanksgiving dinner stay off your thighs."