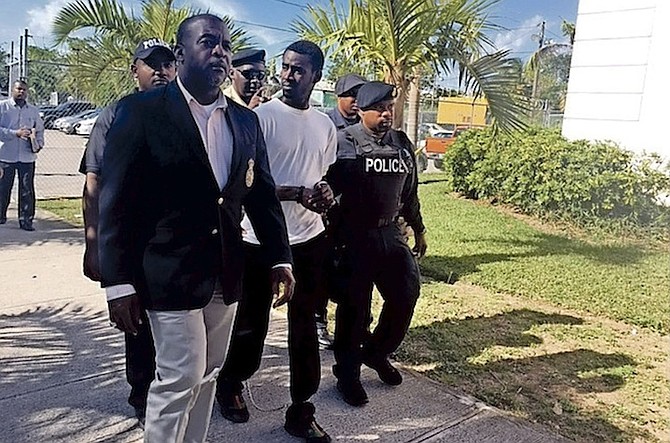 By LAMECH JOHNSON
Tribune Staff Reporter
ljohnson@tribunemedia.net
TEENAGER Marco Davis was remanded to prison yesterday after he was arraigned in connection with the recent armed robbery of a Super Value food store and the fatal shooting of a restaurant owner.
Davis, 18, also faced charges of armed robbery and rape in a further arraignment.
He appeared before Magistrate Kara Turnquest-Deveaux facing a charge of murder in the November 13 killing of Albert Rahming, 52, owner of the popular downtown nightspot Via Caffe.
He was charged with murder under section 291(1)(b) of the penal code, which does not attract the discretionary death penalty if a conviction is reached at trial.
Rahming was shot dead and his bullet-riddled body found slumped in a black Mercedes Benz in the parking lot east of the Nassau Sailing Club on the Montagu foreshore around 7.30am that day.
Davis was told that he would not be allowed to enter a plea to the allegation until formally arraigned before a judge in the Supreme Court. He is due to return to the Magistrate's Court on January 31, 2017 for the presentation of a voluntary bill of indictment which will facilitate the transfer of the case to the higher court.
Davis was then charged with the November 20 armed robbery of the Super Value on West Bay Street, where it is alleged that armed with a Glock Smith &Wesson .40 pistol and a Springfield .45 gun, he robbed John Collie of $11,881 cash belonging to the food store chain.
He was then charged with the lesser crime of receiving as prosecutors alleged that he was found with the funds stolen from the Westridge store.
He was further charged with three counts of possession of a firearm with intent to endanger life with his alleged victims being Inspector Cash, Cpl 2127 Hanes and 3542 Cindy Rolle.
Police received information of a robbery in progress at the food store, where more than a dozen customers were inside. When officers arrived, the armed suspects had already left the store in a stolen silver-coloured Honda, but police immediately issued an all points bulletin for the men.
The armed robbery suspects led the police on a high-speed chase that ended in a residential area off East Street South. This matter also will be transferred to the Supreme Court on January 31, 2017.
In another arraignment, Davis faced charges of armed robbery and rape.
It is alleged that, on November 8, he robbed a 16-year old girl of an iPhone and a $400 gold Michael Kors watch before sexually assaulting her.
Davis is further alleged to have robbed a man of $2,000 cash, a $400 Samsung phone and a watch on the same day.
It is also alleged that on October 12, he held up and robbed two women of a Samsung phone and a Gucci hand chain.
He is expected to return to court on January 31, 2017 concerning these matters as well.
Due to the nature of the allegation, he was informed that he would be denied bail and remanded to the Department of Correctional Services to await trial.
However, he has a right to make an application for bail in Supreme Court.