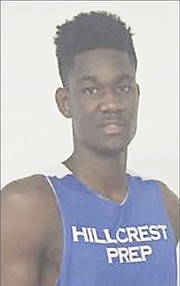 By BRENT STUBBS
Senior Sports Reporter
bstubbs@tribunemedia.net
EVERYWHERE he goes, DeAndre Ayton can hardly believe how people stare and are in awe of his height. The top ranked high school player in the United States can't help it, considering that it's not everyday that Bahamians get to see a seven-footer walking around town.
Last weekend, Ayton came home and put on a show as he led his Hillcrest Prep Bruins out of Phoenix, Arizona, with two impressive victories in the Sand Between Your Toes Showcase at the Kendal Isaacs Gymnasium.
The 18-year-old 7-foot, 235-pound centre, who has already signed to play for the Arizona Wildcats at the collegiate level next year, left his mark on the Bahamian crowd by averaging 27.5 points with nine rebounds and 2.5 blocked shots.
Last summer, Ayton, through the assistance of his former coach Kevin 'KJ' Johnson, made his national team debut as he helped the Bahamas at the Caribbean Basketball Confederation's Championship for Men to a second place finish last year in the British Virgin Islands.
One of the questions a lot of people were asking is just who is DeAndre Ayton. His father Alvin Ayton put his son's genesis into perspective, noting that when he was born, him nor his Jamaican-Bahamian wife, Andrea Ayton, expected their son to grow as tall as he has.
"He's the first child in the marriage, grew up here just like any other Bahamian," said the proud father. "He got in love with basketball and we introduced him to the Jeff Rodgers Basketball Camp where people started to notice his height."
At the time, Ayton was attending Bahamas Academy after he graduated from Sadie Curtis Primary School. However, Ayton never got to complete high school in the Bahamas as his parents made a decision to send him off to the United States at the age of 13.
"He first went to Balboa School in San Diego where he was able to improve his skills under the tutelage of Shawn Munnings," his father said. "Shawn Munnings decided to leave the school, so me and the wife decided to take him to Arizona where she had some family members and friends."
There they enrolled him at Hillcrest Prep Academy two years ago and Ayton was able to begin his crest to become the top ranked high school player in the country.
Following in the footsteps of his grandfather, who stood about 6-8, the 5-7 father said they were surprised to see how fast DeAndre grew because one day "we were looking down at him and in a couple of days, we were all looking up at him as he continued to grow.
"It was like he just grew overnight because the first year at Jeff Rodgers, nobody really noticed him. But by the third year, he grew and he was rubbing shoulders with the older guys, but they didn't really know because they thought he was in set with them.
"By then, he started to improve and he was getting more and more attention because of his height."
Once Ayton left town for the United States, his father said they only saw a lot of "upside" for him.
"We had decided to stick with Balboa because Shawn Munnings had really showed a lot of interest in him," the father said. "But once he left because of some personal problems, we knew we had to make a decision on where to send him and Hillcrest turned out to be the best place."
Since Ayton made the move to Arizona and the spotlight continued to shine on him, his father said he and his wife have been travelling quite frequently to the United States.
"When these guys in the United States found out about him, they were not interested in his talent. They just concentrated on his height," his father said. "They wasn't concerned about whether he could dribble the ball or shoot the ball. They were just interested in his height.
"We had plenty schools that came to us from time to time asking us to move him to their school, but we decided to keep him at Balboa until Shawn Munnings left. The world saw him at Balboa. When he went there he was a nobody and they developed him, so we wanted him to stay there."
And with the next phase in his life fast approaching, the elder Ayton said they allowed the younger Ayton to make a decision on exactly where he wanted to play college ball.
"He always wanted to play for a good college, so we wanted him to decide on what he wanted to do," the father said. "Everybody at the school was telling him what to do and it was difficult for him, so we decided to let him have the biggest decision on what he wanted to do.
"He met with the coaches when he visited all of the schools, so he had a chance to decide on where he wanted to go. He said he liked Kansas City, but he decided on Arizona because he said it felt like he was at home. He liked the underdog and so it was easy for him to decide. It was all him."
Now that he's given him the rein to make his ultimate decision, the elder Ayton said he's looking forward to seeing how well his son can adjust to the next level.
"There's still so much work for him to do," he said. "He's ranked number one going into college, but as long as he can still healthy and do what he has to do, he can make it. He still has a long road to go."
That road, according to the senior Ayton, would be to go to the NBA.
"DeAndre is a blessed child. He's still trying to figure out everything," his father said. "Whenever he step out there on the court, he is like a man. But he's still a child still trying to find his way, still trying to find a way to talk to girls. He's still trying to figure out everything.
"When he's not on the court, he's like a baby. But when you see him go on the court, he's like a man. He's a normal child. He's been in the spotlight for so long that he just wants to be normal. He doesn't like the spotlight. He wished he can just sit down and don't have people coming to him and asking him how tall is he?"
But the child, who grew up in Nassau Village with a makeshift basketball rim in the front of his yard, is still trying to adjust to his stardom and he's coping quite well right now.