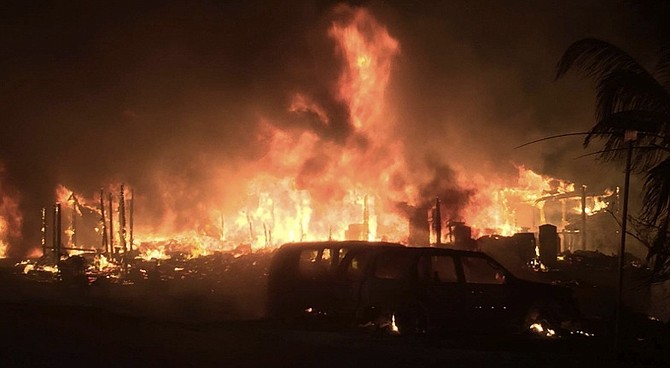 By SANCHESKA DORSETT
Tribune Staff Reporter
sdorsett@tribunemedia.net
THE CHARRED remains of a woman were found inside a home in North Eleuthera early yesterday morning after police extinguished a massive fire that destroyed four homes, burned six vehicles to the ground and left eight people displaced.
The local firetruck was not used in fighting the blaze, which started shortly after 3am in Current, as it had broken down and one resident claimed that some of the homes might have been saved had it been in service.
Fire Chief Walter Evans said police dispatched a team to help after they received reports of a house fire in the Current area. When officers arrived, they found a two-storey home engulfed in flames.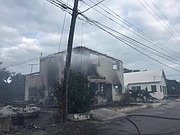 Supt Evans said despite attempts by police and volunteer fire fighters the building, as well as three other homes, were completely destroyed.
After the fire was extinguished, police discovered the charred remains of a "human being". An autopsy will have to be conducted to determine the exact cause of death.
Police have not identified the victim but The Tribune understands she is Audrey Symonette.
Responding to reports that there were no available firetrucks in Current or nearby settlements, Supt Evans said "the firetruck in Current is experiencing mechanical issues".
"I have to give credit to the Officer in Charge of Eleuthera, Superintendent Christopher Wright and his team, who responded immediately, " Supt Evans said.
"We have five officers from the capital assisting with the investigation. As it relates to available firetrucks, they do have one in the area but it is experiencing mechanical difficulties, that is being looked at right now. This fire was very near the sea and wind played a major role in the spread of this blaze."
Current resident Aldred Albury told The Tribune there were no fire engines or fire hydrants in the settlement at the time of the blaze. While he said he does not believe the death could have been prevented had fire trucks been present, he believes more homes would have been saved.
"There is no fire engine in Hatchet Bay, the one in Gregory Town isn't working, there is none in Governor's Harbour. The fire engine came from Palmetto Point, 40 miles away, and it took a while to get here," Mr Albury said.
"We had a fire hydrant in Current but, for some reason, it has been removed. So no fire hydrant, no fire engine. Nothing, but the government can spend $20 million on a carnival that no one is benefiting from except the friends, family and lovers of the Progressive Liberal Party.
"Is it too much to ask for fire equipment? If we had it we could have stopped the extent of the damage. It's time we show the government we mean business. I don't think the death could have been prevented because she was in the house in which the fire started and it was already engulfed by the time people realised it.

"This cannot happen again. This is a disgrace. Just keep us in your prayers on this Thanksgiving; we have eight people with nowhere to live and a husband who doesn't have his wife."
Officers from the Police Fire Services and the Central Detective Unit flew to Eleuthera to assist with the investigation.