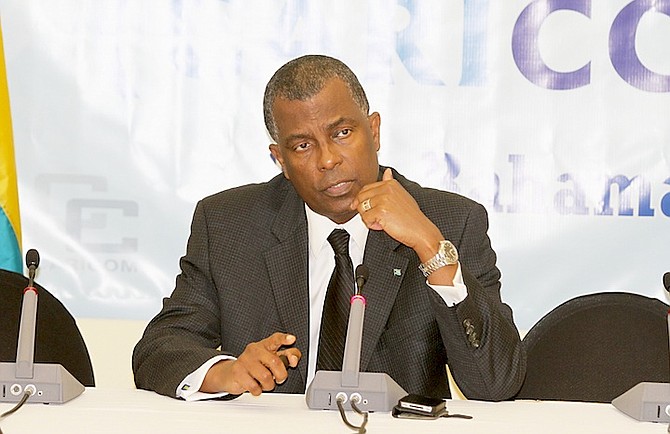 By AVA TURNQUEST
Tribune Chief Reporter
aturnquest@tribunemedia.net
HOURS before the start of the 'We March' demonstration in Nassau on Friday, an apparent audio recording of Minister of Foreign Affairs Fred Mitchell condemning the protest as a propaganda exercise and forbidding his party's supporters to attend was released on social media.
In the recording, Mr Mitchell aligns himself with political website bahamasuncensored.com - an admission that has long been rumoured due to the pro-Progressive Liberal Party (PLP) slant of its content and vitriolic takedowns of persons or entities in opposition to the Cabinet minister and Fox Hill MP.
Mr Mitchell noted that the demonstration had got "young PLPs in a tizzy" but insisted that the march won't change "diddly squat".
He described the list of demands presented by organisers as not special or revolutionary.
The recording starts: "Good morning I just wanted to share some thoughts with you about this so-called Black Friday march which is scheduled to take place today.
"I'd like to read from bahamasuncensored.com column and encourage you on a regular basis to read bahamasuncensored.com and Fred Mitchell minute-by-minute on Facebook because it tells you what I'm doing and it also aligns with much of my thinking on political issues."
Reading from the column, titled "The Fake and Phony Black Friday March", the recording continues: "A few weeks ago, Renard Henfield woke up on the wrong side of the bed and said: I'm mad as hell and I'm not going to take it any more. His response was to sit down with former FNM Senator and son of the FNM Grand Dame Janet Bostwick Henry Jr to plan a Black Friday march from 25 November. He set out a list of things, none of them revolutionary and of any special import, quite pedestrian really, that he demanded the government should do. 
It continued: "Of course he could demand all he wants; good luck there. However, there is this constant drum beat in the media and especially social media about people dressing up in black (men) and women in orange to demand the government change. 
"Its got all the young PLPs in a tizzy. Oh dear what are we gonna do? Wonder if these people on this march are registered to vote? An election is coming soon, why not spend time doing something useful instead of idle time on a march. The march won't change diddly squat."
Still reading from the column, the audio continued: "We smell a rat here. You have this fellow saying that this is not political and he wants people of all stripes to appear but he is not speaking the truth. Once you see Janet Bostwick's son in it, it's an FNM propaganda exercise plain and simple and no PLP will be caught dead on it. 
"The old saying if its walks like a duck and quacks like a duck, it's a damn duck. This is nothing but an FNM in disguise with glasses. Pretending to be neutral but they are FNM."
Promoted as a silent protest, 'We March' began at Arawak Cay at 1pm, with one estimate of up to 1,000 gathering at the start point. Among them were three Cabinet ministers - Shane Gibson, Jerome Fitzgerald and Kenred Dorsett.
The protestors walked down West Bay Street towards Rawson Square, singing the national anthem and chanting.
The protest has attracted significant support from activists and civic organisations, as well as the support of the country's two umbrella unions, the Obie Ferguson-led Trade Union Congress (TUC) and the John Pinder-led National Congress of Trade Unions Bahamas (NCTUB).
On Thursday, Opposition Leader Dr Hubert Minnis encouraged all Bahamians to participate in the "people's march".
Last night, Prime Minister Perry Christie released a letter to organisers that stated he was "painfully aware" that the country has suffered tremendous setbacks and extended an invitation for a meeting.
Mr Fitzgerald also released a statement on Thursday defending his effectiveness as Minister for Education in the face of calls for Freedom of Information legislation and an overhaul of the education system.