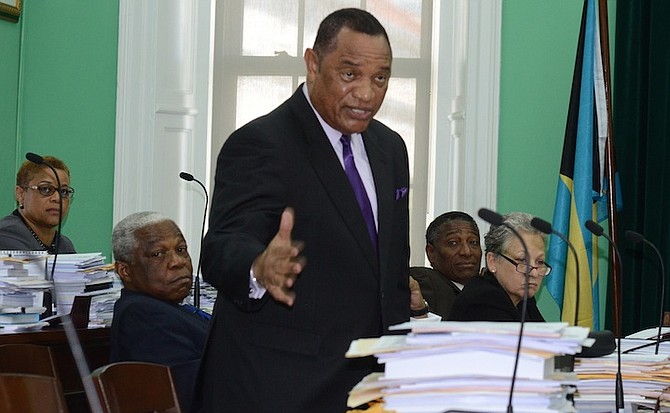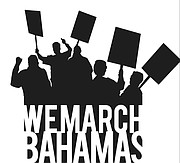 By RICARDO WELLS
Tribune Staff Reporter
rwells@tribunemedia.net
AMIDST a defence of his government's performance this term, Prime Minister Perry Christie yesterday told organisers of today's "We March Bahamas" protest that he was "painfully aware" that the country has suffered tremendous setbacks.
In advance of what has been foreshadowed to be a major protest against governance, Mr Christie released a five-page response to the protest organisers that itemised reform initiatives and made the case that many of those setbacks were "beyond" his administration's control.
Organisers of today's demonstration issued a list of 23 non-partisan demands to the Prime Minister's office - and those of several of his Cabinet ministers - on Tuesday.
Education Minister Jerome Fitzgerald also released a statement yesterday defending his effectiveness in his post in the face of calls for Freedom of Information legislation and an overhaul of the education system.
March organisers have called for a public response to their letter on the steps of the House of Assembly later today, as the group moves in to occupy Rawson Square.
In his letter, Mr Christie told the group that his government remains "resolute" in its commitment to build and a peaceful, economically progressive and politically enlightened society, and invited organisers to a meeting at his office at a "mutually convenient time".
Mr Christie stressed that his government has always worked and continues to work towards it core goal of improving the quality of life of all its citizens.
Promoted as a silent protest, "We March" will start at Arawak Cay at 1pm today.
The protest has attracted significant support from activists and civic organisations, as well as the support of the country's two umbrella unions, the Obie Ferguson-led Trade Union Congress (TUC) and the John Pinder-led National Congress of Trade Unions Bahamas (NCTUB). Opposition Leader Dr Hubert Minnis yesterday encouraged all Bahamians to participate in the "people's march".
In a post on FaceBook, Dr Minnis wrote: "I encourage all Bahamians to participate in the "Black Friday" March beginning at Arawak Cay at 1pm Friday November 25th. Please wear black. This is the people's march. No political paraphernalia."
Lead organiser Ranard Henfield yesterday projected that the number of participants could reach into the thousands.
In what could be seen as an attempt to dampen those efforts, Mr Christie last night detailed several current efforts being promoted or prioritised by his administration to advance the status of life for Bahamians.
Referring to the National Plan document, Mr Christie indicated that his administration was operating with the view to address "many, if not all, of the issues" presented by the group in its letter.
Mr Christie wrote: "This Plan was based on discussions with persons from all across The Bahamas and the political spectrum. It tackles the critical issues facing our country and develops a true agenda for sustainable progress in our country."
He continued: "I am pleased to invite you and representative of your group to attend a presentation of the preliminary first draft of the Plan. I invite your input into this document so that together we can continue to make this a truly collaborative effort transcending partisan and other divisive differences.
"I believe that we can and must continue to develop our philosophy of governance, emphasising increased accountability and transparency. At the same time, we must strengthen the institutional framework of governance, emphasising the deeper involvement of our people in a more participatory democracy, one that allows our people greater say in the formation of major policies that will guide our economic development and social transformation."
Mr Christie said his government is steadfast on governance reform through the National Development Plan, as it looks to address public service reforms; a revision of General Orders to help ensure greater efficiency and accountability in the delivery of public service; the implementation of a Freedom of Information Act and an Open Government Strategy to ensure greater transparency throughout the government; conflict of interest rules to govern politicians and public officials; the need for enhanced financial management and planning so as to ensure prudent, efficient and honest use of public funds at all levels of government and the need to create a regime for Campaign Finance Reform.
All are concepts that the Christie administration have mentioned since coming to office but have been slow to introduce or advance.
Mr Christie claimed that he is "deeply conscious" of the need to deepen the country democracy. He said his government is actively considering the improvement in local government as a tool for meaningful development throughout the Family Islands.
He also made mention of better mechanisms to ensure the more efficient management of New Providence as well, with new ways for civil society to be more involved.
Addressing the labour force, Mr Christie prefaced his comments by noting the "series of brutal external economic blows and devastation from natural hurricane disasters in recent times" and its affects on the tourism and financial sectors.
The Centreville MP said it has become more clear that the Bahamas must compete on its business environment and the efficiency and productivity of its labour force.
His comments come as his administration remains locked in several labour disputes, with issues becoming so severe that labour unions committed themselves in recent weeks to participate in today's march.
Mr Ferguson said last week it was "stupid" for voters to support a government that was working against their interest, referring to the current government's inaction or lack of support in recent disputes.
He indicated that as the country makes needed adjustments, it must be careful to preserve its strong labour traditions.
However, Mr Christie stated: "My party throughout its history has been inextricably linked with the labour movement. I cherish this long vibrant fraternal tradition. It is one that I am personally determined not to betray.
"Though we have our differences from time to time, it would be good to remind ourselves that virtually every major legislative and policy advance in relation to trade unionism and workers' rights over the years was championed by a Progressive Liberal Party administration, bearing in mind that our contraction and labour costs are high than elsewhere in the region."
In his lengthy letter the Prime Minister also addressed his administration's effort to limit government spending, reduce government debt and arrest the scourge of violent crime throughout the country.
Mr Christie indicated that the country's tax models do not yield enough in taxes to offset the cost of running the country.
He said the introduction of major platforms and his administration's commitment to "budget tightening" mechanisms, the government is seeing "some significant success."
With regards to crime he added: "Crime remains a very major concern of Bahamians. No one is immune from the effects of crime. My government is determined to effect a major reduction in crime by dealing with the social troubles of our nation - from drug abuse to broken homes and high youth unemployment."
"Our people must feel safe again - on the streets and in their homes. This is the only way to improve the quality of life on a sustainable basis. As a government we are resolute in our commitment to achieve this goal."
Addressing the economy, Mr Christie told organisers that he shares their concerns on the challenges facing the county, particularly the impact of unemployment of the lives of many Bahamian families - calling this issue as "source of great distress".
To that end he added: "Although opportunities for the development of non-traditional sectors to drive growth and create entrepreneurial and ownership and ownership opportunity are opening up, I really agree that the process of opening a business needs simplification. My government is actively working to remediate this problem. In so doing, we must also improve access to capital for Bahamian entrepreneurs to ensure the development of an ownership economy."
He added: "We must also empower Bahamians by engendering a culture of savings and investment from an early age so that our collective capital can be used to create an economy that is for Bahamians and owned by Bahamians."
Mr Christie also said that his government intends to move "earnest towards" the creation of an efficient land registry to reduce land disputes and to clarify who own lands in The Bahamas.
Lastly, the Prime Minister made mention of his administration anti-poverty policies and programmes, initiatives geared toward increasing employment and entrepreneurial opportunities as a source of life sustenance; increasing the availability of safe and affordable housing and the revitalisation of our traditional communities; improving access to affordable and nutritious food with our communities for healthier lives; and strengthening the resources and capabilities of our social services institution to better assist Bahamians in dealing with poverty generally and the sudden financial shocks and dislocations such as were recently experienced with Hurricane Matthew.
In closing, the Prime Minister said he hopes his meeting with organisers will engender "serious and mutually respectful dialogue aimed at bring them closer to a common aim and purpose - improving the quality of life of Bahamians".