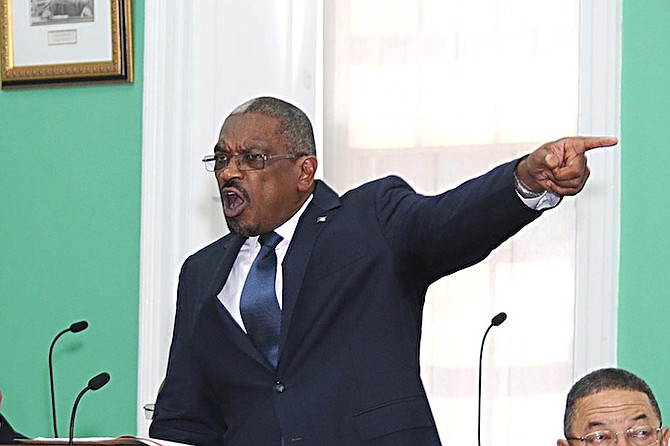 By NICO SCAVELLA
Tribune Staff Reporter
nscavella@tribunemedia.net
FNM Leader Dr Hubert Minnis yesterday lamented the recent spate of murders in the past few days, as he called on the Christie administration to "bring forth a real plan" to address crime.
According to The Tribune's records, 12 people have been murdered in November, compared to ten in October, and six in September.
Despite a spate of killings over the past few days, murders have trended down compared to 2015, which set a homicide record of 146 homicides.
Up to press time, the murder toll stood at 97 for the year, compared to the 136 recorded up to this point in 2015, according to The Tribune's records.
This represents a decrease of 29 per cent.
However Dr Minnis, in a statement, said the government has "nothing to celebrate" over its anti-crime initiatives, as he said the country's crime rate indicates a "failure of leadership" that "falls at the feet of this government that spends more time telling us that we are wrong about the crime waves that are washing through our streets."
"Leadership is about solving problems, not flashy press conferences trying to ignore them," Dr Minnis said. "It is time for this government to listen and learn. Follow the lead of our law enforcement community that has been offering solid ideas to address the crime problem.
"Ignoring a problem does not make it go away. In fact, the PLP has proven it only makes it worse. So instead of criticising the 'We March Bahamas' marches, the PLP government should heed their calls and take immediate action on this epidemic.
"The people deserve safety and security - it's a basic necessity. It's time for the government to finally bring forth a real plan to address the high crime rate in our country and stop talking about the issue only when they think it will benefit them."
On Monday morning, two men were killed in two separate incidents.
According to police reports, in the first incident, officers responded to calls of a male shot outside an apartment complex in the vicinity of McKinney Drive around midnight on Monday. Once on the scene, officers saw the lifeless body of a man and pronounced him dead.
Hours later, at about 6am, police received reports of a fire near an abandoned vehicle on a service road off Graham Drive in Yellow Elder. Police Fire Services units responded and extinguished the blaze, resulting in the discovery of the lifeless body of a male.
According to Assistant Commissioner of Police Stephen Dean, both matters are being investigated as murders.
On Sunday, a man was found shot dead in the parking lot of the International Bazaar on East Sunrise Highway in Freeport, Grand Bahama. That killing, which marked the 17 murder for that island, came five days after a Freeport Harbour employee, who did not show up for work, was found murdered in his apartment in Freeport.
Based on these incidents, Dr Minnis said he fears the murder count will again surpass those of previous years, which he suggested has become a pattern under this PLP administration.
"The murder rate has hit record highs year after year - over triple digits in each of those years and we are about to hit that dubious distinction again," he said. "We sincerely hope that there is no further loss of lives and that the Bahamas does not set a new murder record this year.
"Let me make this clear - the PLP government has nothing to celebrate when the murder rate continues to rob so many families of their loved ones. We will not remain silent as sexual predators target women at an alarming rate and when foreign governments continue to issue travel and crime warnings about our country.
"People do not feel safe in their homes, or on the streets and it is adversely impacting business and our way of life. That is a failure of leadership and it falls at the feet of this government that spends more time telling us that we are wrong about the crime waves that are washing through our streets, rather than addressing the issue."