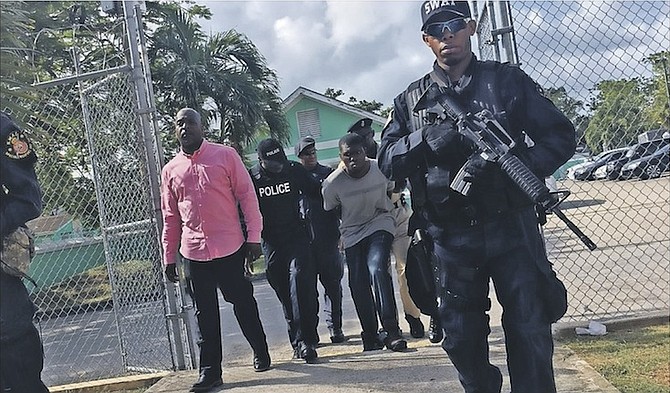 By LAMECH JOHNSON
Tribune Staff Reporter
ljohnson@tribunemedia.net
A MAN accused of having a role in the recent fatal shooting of a restaurant owner and other serious offences, including rape, was arraigned twice in Magistrate's Court yesterday after the initial arraignment was brought to a halt by the chief magistrate.
Kendeno McDonald, 21, was flanked by armed policemen as he was escorted into the Nassau and South Street building to stand before Magistrate Derence Rolle-Davis on a murder charge.
After verifying the accused's date of birth, the magistrate proceeded to arraign McDonald in relation to the November 13, 2016 killing of Albert Rahming, 52, owner of the popular downtown nightspot Via Caffe.
He was charged with murder under Section 291(1)(b) of the Penal Code, which does not attract the discretionary death penalty if a conviction is reached at trial.
Rahming was shot dead and his bullet-riddled body found slumped in a black Mercedes Benz in the parking lot east of the Nassau Sailing Club on the Montagu foreshore around 7.30am that day.
McDonald, like his 18-year-old accused Marco Davis who was arraigned last Thursday, was told that he would not be allowed to enter a plea to the allegation until formally arraigned before a judge in the Supreme Court.
He was then told that he would return to the Magistrate's Court on January 16, 2017 for the presentation of a voluntary bill of indictment, which will facilitate the transfer of the case to the higher court.
However, in the process of arraigning McDonald in connection with an October armed robbery, Chief Magistrate Joyanne Ferguson-Pratt entered the courtroom and told Magistrate Rolle-Davis that she would be doing the arraignments, effectively halting the proceedings.
Moments later, McDonald appeared before the chief magistrate who sought to clarify the apparent confusion.
"It is the chief magistrate who determines the arraignment of cases," she said.
Chief Magistrate Ferguson-Pratt was reinstated in her position after a six-month stint as an acting justice of the Supreme Court.
She had been sworn in to the role in May but was replaced by Acting Justice Rene McKay earlier this month.
"Now this morning I became aware that there was to be an arraignment of this matter. I was willing, I was ready and available to do it but I do not know by what means it went to another court," Chief Magistrate Ferguson-Pratt added.
McDonald took the opportunity to raise allegations of police brutality during his time in custody concerning the police's investigation into the murder of Rahming.
The chief magistrate said she noted the complaint but that the proceeding was only concerning his initial arraignment.
McDonald was then re-arraigned on the murder charge, five counts of armed robbery and two counts of rape.
It is alleged that on October 11 he robbed a 21-year-old woman of a $500 Kipling bag at gunpoint before proceeding to sexually assault her.
It was also alleged that he robbed a man of a $500 Samsung phone at gunpoint on the same day.
It is then alleged that on October 19, he robbed a man at gunpoint of $840 cash, a $400 Movado watch and two silver rings, each valued at $75.
It is then alleged that on November 8, he and Marco Davis, robbed a 16-year-old girl of an iPhone and a $400 gold Michael Kors watch before sexually assaulting her.
They are further alleged to have robbed a man of $2,000 cash, a $400 Samsung phone and a watch on the same day.
McDonald was told that all matters, including murder, rape and armed robbery would be transferred to the Supreme Court on January 26, 2017 when he is presented with a VBI.
He was remanded to the Department of Correctional Services to await trial. However, he was advised of his right to apply for bail in the Supreme Court.