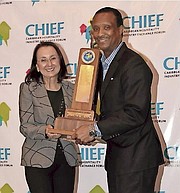 BAHAMIAN hotelier Stuart Bowe was last night named the 2016 Caribbean Hotelier of the Year by the Caribbean Hotel and Tourism Association (CHTA).
Mr Bowe, the senior vice-president and general manager, Resort Operations of Atlantis, Paradise Island, received the coveted honour at the Caribbean Hospitality Industry Exchange Forum (CHIEF), hosted by CHTA, in Fajardo, Puerto Rico.
Accepting the region's premier hospitality award, Mr Bowe credited his grandmother with teaching him service and attention to detail from "cleaning up the kitchen".
His contribution to the hospitality and tourism industry spans more than 27 years, having "cut his teeth" in customer service and management working at McDonald's in his teenage years and entering the industry as a management trainee. Over the years he has worked in every department and in nearly all job categories, from dishwasher to busboy, from bartender to laundry attendant, from housekeeping to maintenance, and from front desk to landscaping.
Mr Bowe earned a BA in accounting in 1986 from Florida State University, an MBA in marketing summa cum laude from Walden University in 2009 and is currently pursuing a PhD in applied management and decision sciences with a focus on leadership and organisational change.
Prime Minister Perry Christie, in a taped congratulatory message, described Mr Bowe as "an exemplar" to be followed by generations of Bahamians. "He is a manager cum laude, one who has brought the pursuit of excellence to his work," he said.
Frank Comito, Director General and CEO of the CHTA who previously served as Executive Vice President of the Bahamas Hotel & Tourism Association (BHTA), said: "Stuart Bowe personifies Caribbean excellence. He is disciplined and innovative and a leader who inspires generations of Bahamians and Caribbean people through his accomplishments and his humanity."
Mr Bowe was posted to Dubai from 2008 to 2010 to oversee the grand opening of the Atlantis, Palm Jumeirah, serving as Vice President of Resort Operations in the Middle East.
Returning to The Bahamas, he became active in the BHTA, establishing numerous school programmes to help children understand the importance of tourism and career opportunities in the sector. The junior hotelier program he was instrumental in setting up in primary and secondary schools has impacted more than 4,000 students.
Now in his third consecutive term, Mr Bowe is the longest serving President of the BHTA and currently serves as First Vice President of the CHTA.