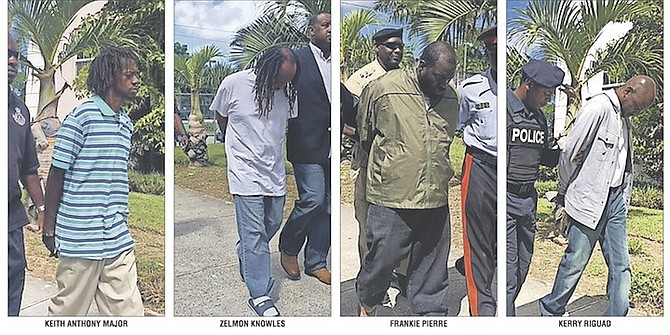 By LAMECH JOHNSON
Tribune Staff Reporter
ljohnson@tribunemedia.net
IT was not a happy birthday for a Chippingham resident who was sentenced yesterday to five years in prison for two illegal firearms found by police during a house raid in Long Island.
Keith Anthony Major, who turned 37 yesterday, was flanked by police as he was escorted into the Magistrate's Court complex to stand before Magistrate Constance Delancy facing four firearm related charges: possession of a prohibited weapon, possession of an unlicensed firearm and two counts of possession of ammunition.
He was also charged with possession of dangerous drugs.
It is alleged that he, with Zelmon Knowles, 41, Frankie Pierre, 45, and Kerry Riguad, 45, were found with a prohibited AK-47 rifle and a Jimenez 9MM pistol on September 29.
It is also alleged that they were in possession of a magazine clip that contained 14 7.62 rounds of ammunition for the rifle and seven bullets for the pistol.
The accused men were finally alleged to have possession of four grams of marijuana.
All accused men, except for Major, pleaded not guilty to the allegations.
On the day in question, sometime around 5.20am, Long Island police went to Cabbage Beach to execute a search warrant on a house in connection with suspected drugs and firearms.
Upon arrival, one officer took up a position to the rear of the building while the others knocked on the front door and identified themselves as police.
At this time, a man who was later identified as Major, ran towards and got out of the apartment's back door, but was intercepted by the waiting officer.
Officers entered the home to carry out their initial task and discovered marijuana on the kitchen counter.
Officers then discovered the loaded pistol in the southeast bedroom and the loaded rifle in the closet of another bedroom.
Major was taken into custody and subsequently charged.
Magistrate Delancy asked Major if he accepted the facts and he said "yes''.
His lawyer, Jomo Campbell, said his client's present predicament was not one he intended to find himself in on his birthday.
The lawyer said Major is not only a husband but also a father of six children, four of whom are still dependents on a man who was gainfully employed up until the day of his arrest.
Mr Campbell said his client did not want to waste the court's time and assumed responsibility for "a silly mistake."
He said that notwithstanding the seriousness of the firearm offences, there was no indication that the weapons were intended to be used for violence or to hurt anyone. He asked the court to balance justice with mercy.
Magistrate Delancy, after taking an hour to deliberate on a punishment, found that the crimes were deserving of a custodial sentence instead of a fine recommended by Major's lawyer.
While crediting Major for his early plea of guilt and lack of prior convictions of a similar nature, the magistrate said that the convict had committed serious crimes and that the weapons could have posed a danger to society if used.
Major was sentenced to five years for possession of the AK-47 rifle and three years for the magazine attached to the weapon.
He further received three years for possession of the 9mm pistol and two years for the seven bullets.
The marijuana landed him six months at the Department of Correctional Services.
All sentences will run concurrently from the date of conviction.
The remaining accused will stand trial on December 7 as police prosecutor ASP Clifford Daxon said the prosecution intends to
proceed with the charges against Knowles, Pierre and Riguad.
The trio were denied bail, but informed of their right to apply for a bond in the Supreme Court.
They, too, have retained Mr Campbell to represent them against the charges.