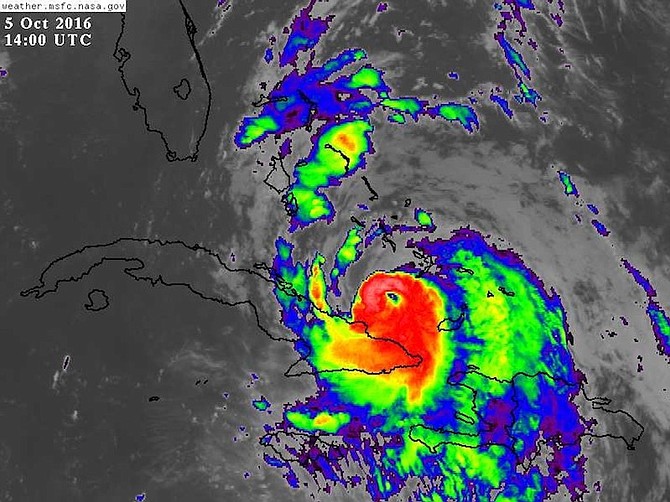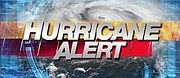 By DR JEFF MASTERS
Director of Meteorology
Weather Undergound
HURRICANE Matthew will move northwest through the Bahamas on Wednesday and Thursday, with the dangerous right front quadrant with the highest winds likely to affect the most populous island in the archipelago on Thursday morning.
Extreme winds are the main danger on New Providence, though a storm surge of up to ten feet is possible. Fortunately, the capital, Nassau, is on the more protected north side of the island, which is less vulnerable to storm surge.
Low tide in Nassau is at 5.22am on Thursday and high tide is at 11.46am. The tidal range between low tide and high tide is about two feet, so the timing of the high tide relative to a possible ten-foot storm surge can contribute up to a 20 per cent increase in the observed storm tide (the height of the water above ground.) In their 11am Wednesday Wind Probability Forecast, the US National Hurricane Centre (NHC) gave highest odds of hurricane-force winds in the Bahamas to Great Exuma (78 per cent), New Providence (74 per cent) and Grand Bahama (64 per cent).
Major storm-surge potential
The greatest surge danger for Exuma and Long Island will come on Wednesday evening, shortly after Matthew passes.
Large expanses of shallow water lie along the west coasts of these islands, and the counter-clockwise circulation of the storm will push water to the east and northeast into these shallow waters, where they will be forced up onto land.
New Providence has its shallowest waters to the south, so their main storm surge risk will come as Matthew is approaching from the south east. According to a Tuesday blog post by storm surge expert Dr Hal Needham: "Many areas in this archipelago contain broad reefs that provide large pools of shallow water for hurricanes to displace and inflict storm surge damage. The impacts of these surges are often severe, sea water can overwash small islands, completely inundating them with salt.
"Such surges often destroy fresh water and food supplies, as saline soils can take years to lose high salt content. Of particular concern is the possibility that Matthew will track far enough east to produce a large storm surge on Crooked Island, Acklins Island and Long Cay. Hurricane Joaquin generated a devastating 15-foot storm surge in this area just last October, taking advantage of a shallow reef that is open to the southwest. A second large storm surge in two years would have grave impacts for this region."
Matthew will be big and bad again
Given the favourable conditions for intensification, and the fact that Matthew is now moving into a region with even warmer waters (though a lessening amount of total ocean heat content), I expect the storm will again be at Category 4 strength by Thursday morning.
The near-record warm waters Matthew will be feeding from will allow the hurricane to greatly expand its size over the next two days, as will the fact that it will be steadily gaining latitude, allowing the hurricane to better leverage the Earth's spin to gain more spin of its own.
The unusual mass of convection to the east that persisted until it made landfall in Hispaniola has apparently been absorbed and will also contribute to Matthew expanding in size. This is going to be a very large storm with widespread impacts by the time it approaches the south east United States on Thursday evening, and Matthew is likely to be a major Category 3 or stronger hurricane while it pounds the northern Bahamas and east coast of Florida.
Matthew may take an extended path over the core of the very warm Gulf Stream current on Friday, providing an extra boost in intensity.
On Friday night, when Matthew will be moving northwards nearly parallel to the coast and approaching South Carolina, high wind shear of 20-plus knots is expected to attack the storm. High wind shear plus potential interaction with land will likely lead to a weakening of Matthew to Category 2 strength by Saturday, when the hurricane will make its closest approach to South Carolina and North Carolina. As Matthew makes its expected turn to the east on Sunday and moves parallel to the North Carolina coast, wind shear will rise even further, to 40-plus knots, and we can expect Matthew to weaken to a Category 1 hurricane or tropical storm by Monday of next week.
After Haiti and Cuba
Hurricane Matthew was a weakened Category 3 hurricane with 115mph winds on Wednesday at 8am, thanks to the disruptions to the storm caused by landfalls in Haiti and Cuba on Tuesday.
However, the storm is re-organising over the warm waters of the Bahamas, and poses a serious threat to the Bahamas and southeast United States over the next three days. Matthew's top winds had rebounded slightly, to 120mph, as of the 11am advisory from the NHC.
Matthew was able to shrug off its initial landfall on the southwestern tip of Haiti near 7am Tuesday, with the hurricane's Category 4 winds of 145mph dropping by just 5mph. A more protracted landfall over the eastern tip of Cuba on Tuesday evening, though, disrupted the storm's eyewall, which suffered a partial collapse. As a result of this, plus the fact that a large part of the storm's circulation has been over the high mountains of Cuba and Hispaniola over the past day, Matthew was looking considerably less impressive on satellite imagery on Wednesday morning.
The hurricane's heavy thunderstorms were much reduced in the northwest quadrant, and Matthew was smaller and had fewer low-level spiral bands.
Dr Jeff Masters co-founded Weather Underground in 1995 and flew with the National Oceanic and Atmospheric Administration 'Hurricane Hunters' from 1986 to 1990. This is an edited extract from his blog on www.wunderground.com yesterday