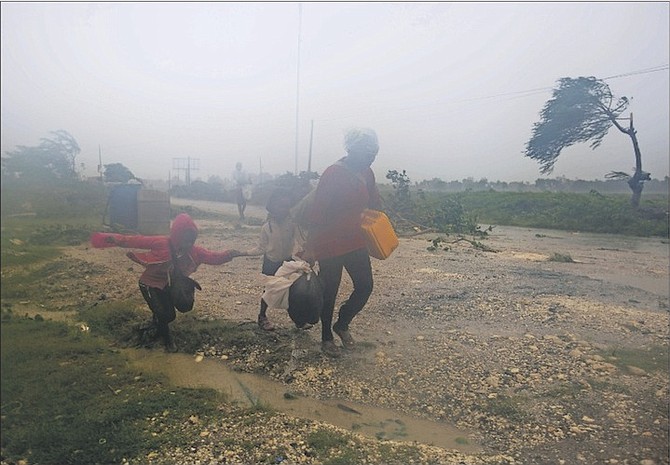 By DR JEFF MASTERS
Director of Meteorology
Weather Underground
Mighty Hurricane Matthew has shrugged off its encounter with a landfall on the southwestern tip of Haiti between 7am and 9am on Tuesday morning, and remains an extremely dangerous Category 4 storm with 140mph winds as it plows north at about 9mph over the eastern tip of Cuba. Now Matthew is set to carve a destructive swath across The Bahamas.
Matthew's assault on the Greater Antilles is just in the first of what could be a week-long sequence of damaging events as the massive hurricane churns toward the US East Coast. The most immediate threat is to The Bahamas, where the entire nation is now under a Hurricane Warning.
Matthew has a good chance of retaining its current strength, or perhaps even intensifying a bit, as it passes through The Bahamas from late Tuesday through early Thursday. Wind shear is expected to remain low to moderate (around five to 15 knots) through at least Thursday, with a very moist atmosphere (relative humidities at mid-levels of 70 to 80 per cent). Moreover, the waters of The Bahamas are close to record-warm levels for early October, with sea surface temperatures around 29-30°C (84-86°F), about 1°C above average.
There is also plenty of deep oceanic heat; together with the shallow undersea topography of The Bahamas, this will reduce the chance that Matthew's fierce winds and waves will churn up enough cool water to significantly dent its strength. The fact that Matthew lost little strength during its trek across the Greater Antilles last week testifies to its very large and well-structured circulation.
The US National Hurricane Center (NHC) forecast issued at 11am Tuesday keeps Matthew as a Category 4 through Thursday.
Matthew will produce very heavy rains, high winds and huge surf across The Bahamas, but the greatest risk for the islands will be the potential for a devastating storm surge.
Only a year ago, Category 4 Hurricane Joaquin looped near the easternmost islands at the start of October, inflicting more than $100m in damage and killing 33 crew members aboard the ill-fated El Faro cargo ship.
There is still some uncertainty about Matthew's path, but it is likely to slice through the heart of The Bahamas, putting many islands on its more dangerous right-hand side. Direct hits on Nassau and/or Freeport are quite possible. Since Matthew's core of hurricane-force winds is fairly compact, it's possible that only a few islands will experience such winds, but widespread storm surge of up to 10 to 15 feet is a major concern to the east of Matthew's expected path.
Joaquin produced a 12- to 15-foot surge on Rum Cay, Crooked Island and Acklins Island in 2015.
Matthew strengthens
Satellite loops late Tuesday morning showed that the encounter with Haiti's southwest peninsula weakened the storm, with the eye growing indistinct and the cloud tops of the eyewall thunderstorms warming.
However, early Tuesday afternoon the eye began clearing out, and an Air Force hurricane hunter aircraft found that the central pressure had begun to drop again.
At 12.38pm Tuesday, during their final penetration of the eye, the Air Force Hurricane Hunters measured a central pressure of 949 millibars, down two mb from their previous two passes through the eye. Peak surface winds measured by their SFMR instrument were 135mph, and a dropsonde measured 141mph winds at the surface.
Matthew clearly remains a solid Category 4 storm, as reflected in the 5pm advisory from the National Hurricane Center.
Other than the land interaction going on with the eastern tip of Cuba, Matthew has favourable conditions for development. Light wind shear of five to 10 knots is affecting the storm, it has warm ocean waters of 29°C (84°F), and plenty of moisture - 70 to 75 per cent relative humidity at mid-levels of the atmosphere, as analysed by the Statistical Hurricane Intensity Predictions Scheme (SHIPS) model.
Extreme rains
Extreme rains from Matthew are a huge concern for eastern Cuba and the entire island of Hispaniola. The mountainous terrain of these islands creates tremendous uplift to the thunderstorms moving ashore, resulting in extremely intense rainfall. According to Oficina Nacional de Meteorología (ONAMET), the official weather service of the Dominican Republic, total rainfall amounts in the Dominican Republic on October 3 were as high as 233.9 mm (9.21 inches). The capital of Santo Domingo received 170.2 mm (6.81 inches). Additional heavy rains fell across southern portions of the country on Tuesday. The huge rainfall amounts we've been mentioning from the personal weather station (PWS) in Cabo Rojo, on the southern coast of the Dominican Republic near the border with Haiti - 22.89 inches of rain on Monday - are not mentioned on the ONAMET website, even though they operate the station. Thus, these rainfall numbers may be unreliable.
Catastrophe
in Haiti?
Matthew's extreme rains, large storm surge and Category 4 winds were likely catastrophic for the southwestern portion of Haiti where landfall occurred.
Matthew was the third strongest hurricane ever recorded in Haiti, and their strongest hurricane in 52 years. The only Haitian hurricanes stronger than Matthew were two Category 4 storms with 150mph winds: Hurricane Cleo, of 1964, and Hurricane Flora, of 1963. According to a Tuesday afternoon news story from weather.com, two deaths in Haiti and four in the Dominican Republic are being blamed on Matthew so far.
We don't have many weather stations in Haiti, so it is difficult to say what the conditions are on the ground. However, all three weather stations in southern Haiti that send us data continued transmitting through mid-afternoon Tuesday, which is a good sign. The Port-Au-Prince airport did not receive strong winds; top winds as of 2pm Tuesday were 34mph, gusting to 52mph. However, they did report several hours of heavy rain, which is the main danger in this heavily populated region, due to the high flash flooding risk. A PWS on the south coast Haiti at Aquin, about 70 miles east of Matthew's landfall, recorded a wind gust of 59mph at 6.50am Tuesday. A PWS near Port-Au-Prince recorded about 2.81 inches of rain for the day, ending at 3pm Tuesday.
Dr Jeff Masters co-founded Weather Underground in 1995 and flew with the National Oceanic and Atmospheric Adminstration 'Hurricane Hunters' from 1986 to 1990. This is an edited extract from his blog from www.wunderground.com yesterday.