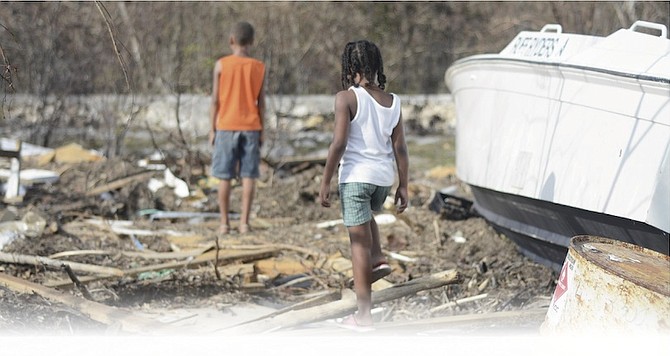 By RASHAD ROLLE
Tribune Staff Reporter  
rrolle@tribunemedia.net
AS residents of the southern Bahamas brace for Hurricane Matthew, they are avoiding the errors that caused last year's Hurricane Joaquin to devastate their property.
Jane Knowles, a 78-year-old resident of Mangrove Bush in Long Island, found "everything destroyed" when she returned to her low-lying home after Hurricane Joaquin passed through last October.
Water rose to her roof, she told The Tribune on Tuesday.
"The salt water was eight foot high in my house," she said.
This time, with the help of her children and grandchildren, Ms Knowles has taken all items "but the toilet" out of her house and has had them stored in a nearby trailer until the storm passes.
"I feel all shook up," she said, adding that last year's hurricane has made residents of the island more fearful than usual about what Matthew will do.
"I have bad legs and bad arthritis and my husband died in 1981," she said. "So I need the help, and thank God for my children for that. So far everyone battening up the area out of fear."
One resident of Long Island, Sandy Knowles, said last year's hurricane was met with a bit of nonchalance from residents.
Not this time, however.
"This time everyone is more alert. We're battening up and down but still aware of the possibility that there will be damage because water can do anything," she said.
Ms Knowles said she lives on a "semi-hill" so flooding has not traditionally been a problem for her and her family.
Those who live below her in the Mangrove Bush area, however, were devastated by Hurricane Joaquin and are praying for a weaker storm this time.
Even more worrying is the fact that many residents in the Southern Bahamas have not fully recovered from last year's storm.
"Lots of people are still in the rebuilding stage," Ms Knowles said. "Some are not even 50 per cent repaired yet."
One person that falls in this category is Kermeka Farquharson of Crooked Island.
She told The Tribune that while she's not nervous, her family had not finished repairing the damage Joaquin wrought on her home.
"The roof isn't completed but we tried to patch it up yesterday, the three of us who live here," she said.
She said residents were not yet experiencing the effects of Hurricane Matthew, giving everyone more time to prepare.
"A little breeze is here and the sky's cloudy," she said.
"But we'll see how long that lasts for."