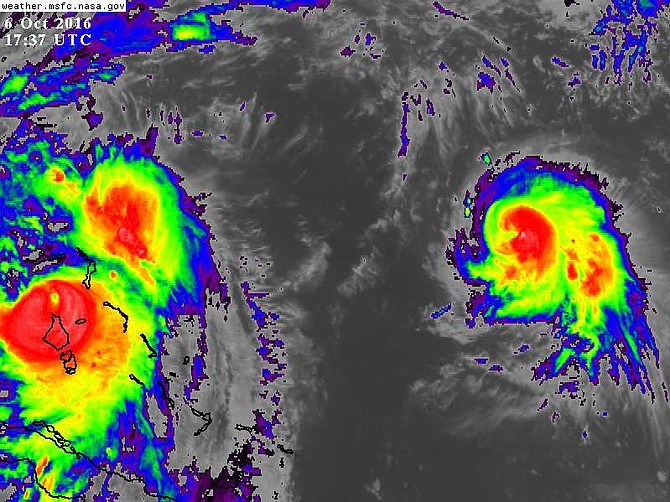 By DR JEFF MASTERS
Director of Meteorology
Weather Underground
WITH top sustained winds of 140mph, Hurricane Matthew is once again an extremely dangerous Category 4 storm.
Matthew's eye, clearly visible on satellite, was approaching the north end of Andros around noon on Thursday. The especially dangerous right-hand side of Matthew's eyewall passed over or very near New Providence and Nassau. Since the city lies on the north side of the island, it is shielded to a large extent from storm surge with a northwestward-moving hurricane such as Matthew.
Matthew's central pressure dropped more than 12 millibars overnight, and a jump in surface winds typically follows such a drop after 12 to 24 hours.
Over the past day, the Bahamas has taken a severe pounding from Matthew. On Wednesday evening, the hurricane passed within 50 miles of Exuma, where Weather Undergound member ExumaMET reported: "Morning all. It was an intense night here. I recorded sustained winds over 100 and gusts way into category 4 strength with one gust hitting 153mph before something took out my instrument. We're still in tropical storm force and it should be interesting to see what the island looks like as the sun comes up."
At 2.19am on Thursday, winds at a personal weather station (PWS) on Staniel Cay, Exuma, located in the strong right eyewall of Matthew about 30 miles east-northeast of the hurricane's centre, peaked at 92mph, gusting to 101mph. The pressure bottomed out at 984 mb at that time, and 14.13 inches of rain fell in the period from midnight to 1pm.
After passing Exuma, Matthew marched northwest, passing between Andros to the west and New Providence to the east. The strongest winds of the right-front quadrant of Matthew hit New Providence between 9am and 11am on Thursday. Winds at 9am at the Nassau airport were 58mph, gusting to 85mph. The airport stopped transmitting data after that, as did the four PWS on the island. It is likely that the island experienced a ten-foot storm surge on the south shore.
Forecast
Matthew is continuing northwest, and will pass between the Berry Islands and Grand Bahama this afternoon and this evening. At 2pm on Thursday, an automated station in the Berry Islands, located about 50 miles to the northeast of Matthew's centre, reported a sustained wind of 59mph, with gusts to 76mph. A PWS on the Berry Islands reported sustained winds of 85mph - but the quality of the wind data was suspect. The pressure was 971 mb.
Settlement Point on Grand Bahama will be in the northeast eyewall of Matthew at approximately 8pm tonight. As of 1pm, the winds were 43mph, gusting to 47mph.
Matthew may well strengthen further on Thursday afternoon and evening, but there is only a small chance (estimated at 23 per cent in the 12Z Thursday Statistical Hurricane Intensity Prediction Scheme (SHIPS) model that it will reach category 5 strength. More likely, Matthew will approach the Florida coast tonight as a Category 4 storm, then slide up the coast on Friday with a gradual weakening trend, as greater wind shear, drier air, and land interactions take their toll.
How long Matthew retains its strength depends largely on how long the centre stays entirely offshore, rolls along the coast, or nudges just inland at some point.
Florida next
Only a handful of hurricanes have struck Florida with winds as strong as Matthew's current 140mph, and the only hurricanes known to have been "coast scrapers" along the central and northern Florida coast were considerably weaker than Matthew. For most residents along the north half of Florida's Atlantic coast, and perhaps the Georgia coast as well, Matthew will be the strongest hurricane in living memory (the last major hurricane to affect the Jacksonville area was in 1898).
Breaking waves as high as 15 to 25 feet on top of potential major storm surge are likely to inflict severe damage to beaches and barrier islands along the central and northern Florida coast.
Matthew is on track to become the first major hurricane to make landfall on US shores since Wilma in 2005. It is virtually certain to be the most destructive since Hurricane/Superstorm Sandy in 2012, and it could easily end up among the ten most expensive landfalls in US history adjusted for inflation, perhaps rivalling or topping such recent storms as Wilma, Irene (2011), Ike (2008), Ivan (2004), and Charley (2004).
Latest estimates from a University of Michigan-based research group are that as many as 9.6 million people from Florida to North Carolina may lose power as a result of Matthew.
While all eyes are on Matthew - and rightly so - the sixth hurricane of this busy Atlantic season has developed far to the east. Compact Hurricane Nicole was centred about 345 miles south of Bermuda as of 2pm, with top sustained winds of 80mph. Steering currents are quite weak around Nicole, and it is likely to meander across the open northwest Atlantic for the next several days, perhaps strengthening a bit more before it weakens early next week.
Dr Jeff Masters is the co-founder of Weather Underground in 1995 and flew with the National Oceanic and Atmospheric Administration 'hurricane hunters' from 1986 to 1990. This is an edited extract from his blog post on www.wunderground.com on Thursday