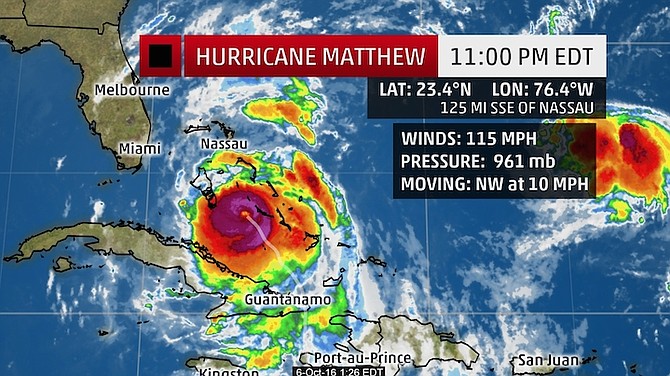 By BOB HENSON
WEDNESDAY night was a very stormy night across the heart of the Bahamas as Hurricane Matthew churned through the centre of the archipelago.
The worst impacts on Wednesday night were likely being felt on Long Island, Great Exuma and nearby smaller islands extending to the northwest, as Matthew moved parallel to these islands and just to the west of them.
At 11pm, winds at a personal weather station (PWS) on Staniel Cay, Exuma, about 50 miles north-northwest of Matthew's centre, were 60mph, gusting to 67mph. Winds in Nassau were 17mph, gusting to 29mph. Two weather stations on Great Exuma reported much higher winds, but these stations have gone offline and so the readings may not be trustworthy: Exuma International Airport (southeast at 119mph, gusts to 144mph) and Moss Town (south-southeast at 107mph, gusts to 131mph).
Officially, Matthew's top sustained winds were at 115mph as of the 11pm advisory from the US National Hurricane Center (NHC). This makes Matthew a low-end Category 3 storm.
Matthew's efforts to reorganise and re-intensify on Wednesday afternoon and evening were a mixed bag. Hurricane Hunters found Matthew's eyewall partially open at times, and the top surface winds had yet to rebound significantly. On the other hand, the convective core of showers and thunderstorms surrounding Matthew's centre has intensified and expanded, and its central pressure began dropping late Wednesday night, a sign that the enhanced convection may be helping the storm to regain intensity.
An 11.03pm Wednesday fix from the Air Force hurricane hunters found that Matthew had finally closed off its eyewall, and the central pressure had dropped to 959 millibars. The NHC noted that Matthew's eye - once again distinct on satellite imagery - has contracted to about 17 miles wide, another sign of strengthening. It may take until midday Thursday for any substantial drop in Matthew's pressure to result in a stronger wind field.
The NHC predicts that Matthew will again hit Category 4 intensity by Thursday evening. The 00Z Thursday Statistical Hurricane Intensity Prediction Scheme (SHIPS) model forecast gave an 11 per cent chance that Matthew would intensify enough to become a Category 5 storm again by Thursday night.
Bob Henson blogs for www.wunderground.com