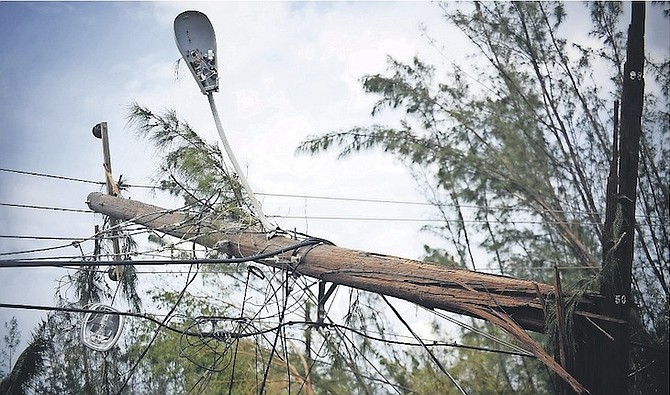 By KHRISNA VIRGIL
Deputy Chief Reporter
kvirgil@tribunemedia.net
WHILE it has begun restoring power to some parts of New Providence, the Bahamas Power & Light Company (BPL) has warned that it could take several days "or even longer" before all customers are back on electricity supply because its distribution network has been "substantially impacted".
However, where possible, the electricity provider has started to provide power to areas least affected by the storm and to other areas where essential services are rendered. 
"Bahamas Power and Light Company Limited (BPL) advises its customers in New Providence that its systems in New Providence have sustained significant damage in Hurricane Matthew," an update on Friday read.
"Where possible, we have started to provide power to areas least affected by the storm and other areas with essential services. Additionally, 50 per cent of the primary substations on the island have been energised and crews are working on others. At present our crews are also carrying out detailed assessments across the island. Once this process is complete, teams will begin an aggressive restoration exercise across the island."
BPL further outlined several of its major challenges, which includes issues restarting engine and damage to the distribution network.
"There are issues restarting engines at Blue Hills Power Station as a result of the storm. Clifton Pier Power Station is available to begin generating power as the transmission system becomes available.
"The transmission system on the island has sustained some damage. BPL's distribution network which services communities has been substantially impacted by the storm.
"We are getting lots of calls in to our command centre, which can be reached at 302-1800 and 323-5561. We encourage this as it will help our teams populate all the issues we have to address and work to carry out repairs.
"We continue to advise our customers that given the extent of the damage restoration could, for some, take several days or even longer.
"There are numerous issues that may impact the restoration process including; standing water in several parts of the island and extensive pole damage in some areas.
"We continue to ask for customers' patience.
"The magnitude of the storm has had a significant impact on our networks and we trust that our customers can appreciate the enormous amount of work we have ahead of us."
In an earlier update, BPL said power was restored to Eastwood and Downtown Nassau after 1am on Friday and work was continuing.
"The company's action plan for restoration is a step down approach impacting the largest amount of customers first and continuing on to smaller groupings and then individual customers," the earlier statement said.
"Once assessments of the transmission lines are complete and repairs, if necessary are made, BPL will begin restoring supply to communities. Customers whose supply are delivered through underground transmission and distribution lines will likely have their power restored first. After transmission line work is complete, BPL will also begin restoring supply to communities fed through overhead lines.
"This process may take much longer as there is considerable damage to BPL's overhead distribution network on the island. Once larger community restorations are complete, BPL will begin addressing individual customer issues. Given the extent of the damage restoration could, for some, take several days or even longer."
The central and southern Family Islands, which fared relatively well during Hurricane Matthew, have already begun to experience power restoration.
Power has been restored to parts of Cat Island and South Island and fully to Rum Cay, Long Cay, San Salvador, Mayaguana and Crooked Island. Efforts are being made to restore supply to Long Island, although power remains off in Exuma and Eleuthera.
Assessments are being undertaken in Bimini, Great Harbour Cay and Abaco after they were hit by the storm.