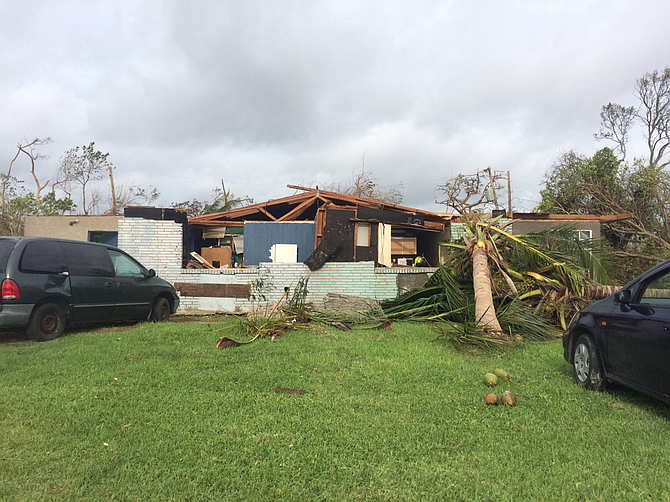 Photo Gallery
Damage on Grand Bahama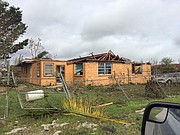 By RASHAD ROLLE
Tribune Staff Reporter
rrolle@tribunemedia.net
NINETY five per cent of the buildings in the Eight Mile Rock and Holmes Rock areas in Grand Bahama received significant damage from Hurricane Matthew on Thursday night and Friday morning, Brenda Colebrooke, the island administrator for West Grand Bahama, said.
"Portions of the homes were blown out and roofs were completely blown off," she told The Tribune shortly before 9am on Friday as authorities began making initial assessments of the damage the category 4 storm caused in Grand Bahama.
There were, however, no reports of lives lost.
"We had some very, very high winds," Ms Colebrooke said. "We think we caught 140mph conditions in the west. We had people still stuck in the west end area, reaching out for help. Right now we're trying to clear roads to make them passable. Our team has not reported back yet though."
A senior police officer told The Tribune earlier on Friday morning that more than 72 homes reported experiencing significant roof damage from Matthew although that did not include the western area of the island.
They expect to receive more of such reports of damage.
West Grand Bahama is also believed to be experiencing significant flooding in the storm's aftermath.

"It was horrendous," Harvey Roberts, the island administrator for East Grand Bahama, said of the hurricane. He said he received calls from residents to be rescued all throughout Thursday night, but could not do anything about it. "We couldn't go out and risk our lives," he said.
Mr Roberts was in Acklins last year during Hurricane Joaquin, which devastated the island. "I thought I would not experience anything like that in my lifetime again but this was even worse," he said. "The winds were tremendous."
When he spoke to The Tribune shortly after 8.30am, Mr Roberts was riding alongside the island's top police officer to begin assessments. He was at the airport, which received minimal damage though "debris was everywhere".
Hurricane Matthew damaged numerous buildings, forced lamp poles down and knocked down trees in Grand Bahama, making roads impassable.
Preston Cunningham, administrator for the city of Freeport, also said "debris is all over the place".
"It's a little too early to say what is what," he added. Mr Cunningham said there was not much to speak about in terms of emergency situations.
"One hurricane shelter with challenged persons had a problem but we were able to manage to have that one solved during the night," he said.