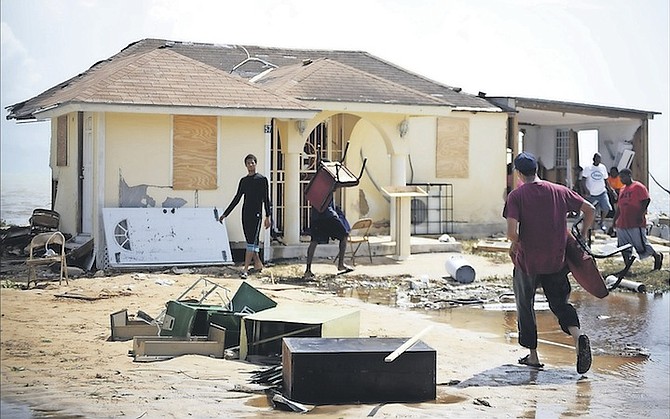 By RASHAD ROLLE
Tribune Staff Reporter
rrolle@tribunemedia.net
HURRICANE Matthew left behind a trail of destruction, flooding, downed lamp poles and electrical lines and residents eager to re-establish normal lives after battering the Bahamas for three days as a dangerous category three and four storm.
No reports of serious injuries or death occurred as a result of the hurricane, but an elderly man died from a heart attack after being airlifted from Andros to New Providence during the storm.
With the sting of last year's Hurricane Joaquin in the minds of many, fears that similar catastrophic levels would impact the southern Bahamas were allayed when the eye of Matthew missed most of those islands, causing minimal damage to them.
Instead, Matthew saved its full force for the northern islands, including New Providence, which received a direct hit from such a poweful hurricane for the first time since 1929, and Grand Bahama, which appeared to have been hit hardest by the hurricane's 140mph conditions.   
Officials are still monitoring the possibility that the storm could "loop" and head back toward the northern Bahamas as a significantly weakened tropical storm.
"We are fortunate in the country that it has had minimal impact on the islands in the south that have had Hurricane Joaquin impacted and so we have to thank God for his mercies in that regard," Prime Minister Perry Christie said on Friday after a Cabinet meeting at the head office of the National Emergency Management Agency (NEMA).
"We are awaiting the full assessments from Exuma. Obviously we were impacted strongly in New Providence and tremendously in North Andros and Grand Bahama."
Mr Christie and other officials were expected to visit Grand Bahama on Friday afternoon.
"The representative for West End and Bimini have told us that quite a number of homes have been destroyed, many of them damaged," he said. "And as we were monitoring last night we are now hearing of significant damage in Freeport and we note that the impact was strong there in Grand Bahama, period."
Indeed, the island administrator for West Grand Bahama, Brenda Colebrooke, told The Tribune 95 per cent of the homes in the Eight Mile Rock and Holmes Rock area were severely damaged, as roofs caved in and portions of homes were blown out.
On Friday afternoon, Yamacraw and South Beach also continued to experience severe flooding.
Bahamians, however, wasted little time beginning to clean-up up the islands.
Even amid windy, rainy, tropical storm conditions on Thursday evening some residents took to the streets.
Long queues of people lined up at gas stations and fast-food restaurants throughout Friday. Others picked up chain saws and cutlasses and began mowing down and removing the large trees and branches that had blocked passages in roads and homes.
Residents in southern New Providence left their shelters and returned to their constituencies, often finding cars nearly submerged and flooding to homes.
Banks on Friday were also working to restore ATMs and to provide limited in-store banking services on Saturday.