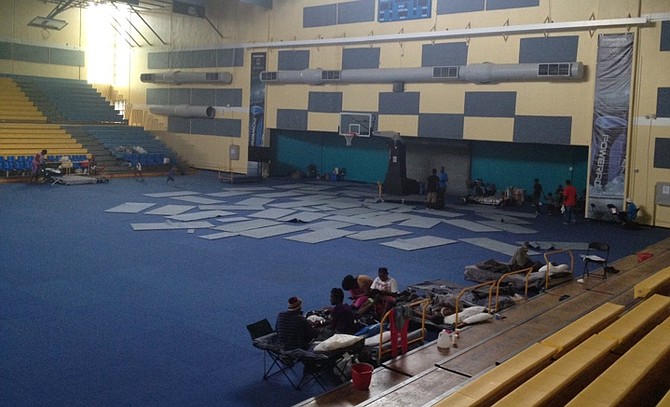 Photo Gallery
Sheltering in the Kendal G L Isaacs National Gymnasium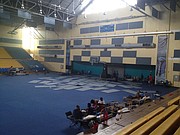 By AVA TURNQUEST
Tribune Chief Reporter
aturnquest@tribunemedia.net
WHEN Antionette Johnson saw reports that Hurricane Matthew would barrel through the Bahamas as a dangerous category four storm, she packed up her son and grandchild and headed to the nearest shelter.
However, the 54-year-old dialysis patient said nothing could have prepared her for the intensity of the storm and the destruction left in its wake.
Ms Johnson is among scores of Nassauvians who have been stranded in the same shelters where they took refuge as 140mph winds ripped through the island.
"This is the worst one," she said while sitting on a stack of mats on the floor at the Kendal G L Isaacs National Gymnasium.
Ms Johnson and her family bunkered down at St Barnabas Parish on Blue Hill Road during the storm, but had to come to the gym after she discovered her two-bedroom, upstairs apartment on Wilson Tract had been flooded due to roof damage. She has missed her Friday dialysis treatment, but noted that social workers have arranged for her to be treated on Sunday.
"So right now I'm trying not to drink or eat anything just to keep it together until I can go [for treatment]. I was so glad I came out of my house. We can't complain, we are safe. Right now I'm just hanging in and hoping Social Services can do something for us."
Nearly two days since the all clear was given, some 30 persons remain at the gym - attended by a team from the Ministry of Youth, Sports and Culture, the National Sports Authority and the Department of Social Services.
Post-storm, the gym has become a place of refuge for those displaced by the storm as business and churches that served as shelters across the capital close to resume normal operations. At 3pm on Saturday, a representative from Social Services said that arrangements were being made to accommodate people displaced by the storm and stranded at the shelter.
Shelter Manager at the national gym, Arthur Thompson Jr, said: "It's about country at this time. We had a lot of devastation and it helped us to understand, we may be doing good but we don't know how other people feel. A lot of people lost their homes from water, some people the defence force had to swim for them to bring them here.
"People lost their roofs, their whole livelihood and they had nowhere to stay," Mr Thompson Jr said. "We've been open since then just helping out people that need to put a cover over their head especially the kids. This is a very hard time, I wish everybody just come together and help out."
While more than 400 people were reportedly rescued during the storm, 37-year-old mother Stacy Murphy said she drove to the Kendal Isaacs gym in a car after the roof was damaged at the Meadow Street shelter she was staying at with her two sons.
"We had to go up the wrong way on Meadow Street because there was nowhere to pass," said Ms Murphy as she used flash cards to entertain her 15-month-old son, Reno. Her seven-year-old son was playing basketball with a handful of kids outside before intermittent rain forced the children indoors.
"The shelter there lost their roof and a lot of stuff too so they had to evacuate us," she said. Oh the wind, it was so bad."
Speaking about her time at the gym, Ms Murphy said: "A lot of people were here, we were in the middle of the floor. It was so cold, like a cooler in here. But we had an awesome time, we're having an awesome time."
Several rows away on the bleachers, Dellarise Forbes folds and sorts clothing for her eight children and husband. The family, whose youngest child is a seven-months-old boy, have come from St Mary's Hall in Fox Hill. Though the future is unclear, Ms Forbes said she was overwhelming grateful to God for the safety of her family.
While only a handful of children remain, the gym hosted 43 during the storm.
Judy Gilbert, a social worker, said: ""I just was praying, the breeze was so strong and when the tin piece look like it had started to lift up on the side (of the building), I was so scared. I just had to pray the blood of Jesus. I began to pray.
"The team here was so good, when they went outside they stood together and they made it happen. They secured that door and it was only God that kept us.
Ms Gilbert said: "This is the worst in all my 46 years. I have never seen it, never experienced this in my whole life."
My back window, the board fall off the window, the front glass break and the fence came down, but I'm not even worrying about that. My life is more important than anything else, and once my family is safe I was cool.
"I just wanted to really make sure everyone else was safe."
On Wednesday night, the gym housed 180 persons. But that number had swelled to 271 during the height of the storm as police and defence force officers brought in rescue victims.
Mr Thompson said: "My staff and my team, we went above and beyond our own duty. We didn't get supplies from NEMA, we purchased our own food to cook for the people. We cooked breakfast, lunch, and dinner. We just went out and said we have to step up to the plate and look at the bill later.
"Some people came here with the only clothes they could save. We had showers for them to bathe, just to make them feel comfortable. When you lose something in life that you've been working so hard for, the first thing you do is go into a state of depression," he said.
"We're just trying to make people relaxed and comfortable."