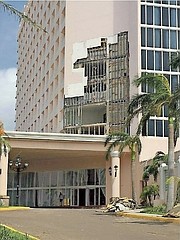 By AVA TURNQUEST
Tribune Chief Reporter
aturnquest@tribunemedia.net
AMERICAN honeymooners at the Riu Palace hotel were among a number of guests that had to be relocated as Hurricane Matthew ripped through the Paradise Island property and compromised rooms on Thursday.
Baltimore couple Dave and Amanda Jenkins were moved from their room on the second floor after they noticed the wall had begun to peel and break apart.
Minutes later when the pair returned for their belongings, they discovered that the facade had been ripped off, exposing the entire room as well as part of the room above it.
The incident rattled some anxious and bewildered guests, some of whom told The Tribune that they were struggling to stay hopeful about the powerful storm's outcome. Hurricane Matthew, a category 4 storm that brought 140mph winds, pounded the Cabbage beach property for most of the day on Thursday; however, the hotel had already sustained extensive water damage by Wednesday from the heavy rains.
Guests in a room on the ninth floor had to be relocated on Thursday morning after a section of crown moulding near the balcony window fell from the ceiling and smashed a glass-covered bedside table.
"We were just standing by the glass door looking out at the storm," said Adina Russell, a 21-year-old Bahamian college student who was in a room with her two nephews, aged nine and ten months.
"It started to get bad out there and I felt that it just wasn't safe to be standing so close so I decided to move away, and move the boys back to the other side of the room. Not long after we moved this big chunk from the ceiling just dropped down. It was a big shock," Ms Russell said, "we were pretty shaken up by it because up until that point it was pretty quiet and not much was happening."
Unlike the makeshift shelters set up in the Atlantis Paradise Island resort's Imperial Ballroom, most guests at the Riu remained in their rooms during the storm. On Friday morning, resort staff and executives embarked on the massive cleanup and assessments for repairs.
See the video on tribune242.com