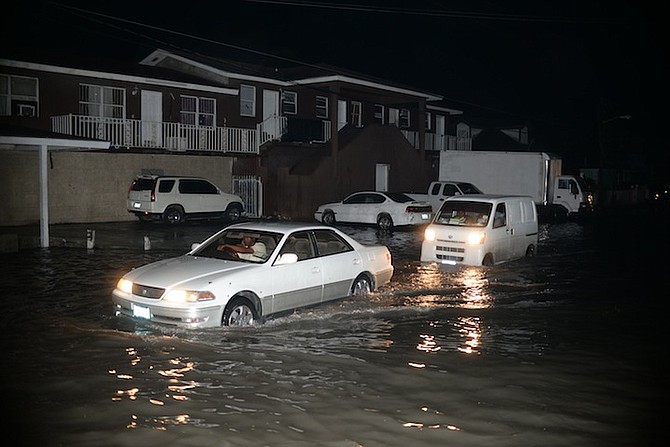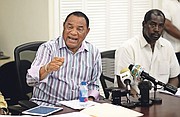 By SANCHESKA DORSETT
Tribune Staff Reporter
sdorsett@tribunemedia.net
AS A result of the "horrific" and "life-endangering experiences" during the passage of Hurricane Matthew, Prime Minister Perry Christie said the government would enact legislation to force people to evacuate their homes and communities during major hurricanes.
Mr Christie also said the government will empower the Prime Minister, the Commissioner of Police and the Commodore of the Royal Bahamas Defence Force with the ability to declare a state of emergency. Currently only the head of the National Emergency Management Agency (NEMA) can make such a declaration - a responsibility Mr Christie said is "too great" for one person.
At NEMA's headquarters on Sunday night, Mr Christie said too many people decided to stay at home and protect their property as Hurricane Matthew pummelled the Bahamas. This move, he said, not only put their lives at risk, but also the lives of rescue service personnel.
On Tuesday, Commissioner of Police Ellison Greenslade and NEMA officials "strongly advised" residents in low-lying areas and on coastal roads to evacuate and contact their local district administrator or the NEMA office to make arrangements for relocation to a hurricane shelter before the onset of the tropical storm force winds by 11pm on Wednesday.
However, on Friday, Commissioner Greenslade said nearly 500 people had to be rescued from their homes in eastern and southern New Providence as flood waters began to rise more than four feet.
"Now I say this, notwithstanding the warning that they were given, many people elected, maybe with good reasons, to protect their homes," Mr Christie said. "I thought at the time the Commissioner went to great lengths to even frighten people into the reality that they were facing by telling them some of them will have to go in the loft for protection. That, in fact, happened and by saying they would have to punch their way to the roof.
"We now know as a result of this experience that we have to be in a position to require people to evacuate certain areas. We see the provision in the law in the United States. We know it is in the law here but we need to ensure that it is in place because people risk their lives in going out.

"The Commissioner can tell a story about when he and his colleague went out to rescue persons and when they got out they had some concerns about their safety and whether they had gone too far. As a result of my determination, The Bahamas cannot approach these situations the normal way."
Mr Christie also said NEMA has to be "strengthened significantly" because the aftermath of Hurricane Matthew is "too enormous for the current structure of NEMA".
He added: "I am also firmly convinced that (declaring a state of emergency) is too great a responsibility for the director of NEMA to exercise by himself and the Prime Minister of the country, the
Commissioner of Police and the Commodore of the Defence Force must have a shared approach to determining whether the conditions in the country are as such that a state of emergency should be declared and that requires an amendment.
"NEMA has to be strengthened considerably and so we are mandated to incorporate a larger team immediately because we cannot wait on the normal way in doing things and getting out there to people who are suffering.

"People are questioning whether their electricity should be cut on and therefore again we want to be able to have NEMA strengthened considerably to be able to let the people of this country know that we are not just making assessments but we are delivering on services to them."
Mr Christie also announced that the government has issued an exigency order, effective on Tuesday, to allow for specific tax exemptions on goods imported for rebuilding purposes as well as water, tarp and some "personal items".
The Prime Minister also said that given the economic cost of this disaster, which came a year after Hurricane Joaquin devastated the southern islands, the government is exploring the option of issuing a hurricane recovery and reconstruction bond.