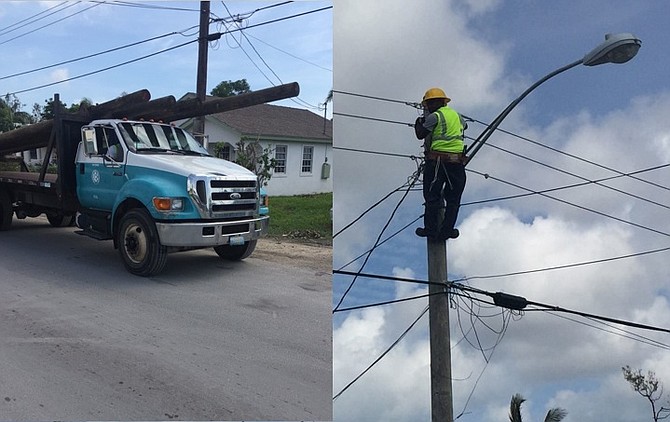 By KHRISNA VIRGIL
Deputy Chief Reporter
kvirgil@tribunemedia.net
BAHAMAS Power and Light Ltd (BPL) has restored electricity to just over 50 per cent of its customers in New Providence and has "substantially completed restoration" in the Family Islands, however officials said last night that given the level of damage from Hurricane Matthew they are unable to give an exact date for full restoration.
However most customers are expected to have power supply by the end of the week.
"BPL has substantially completed restoration in most of the Family Islands with the exception of North and Central Andros where the company's infrastructure was severely impacted," the company said in a statement Monday night.
"BPL has achieved approximately 30 per cent restoration in these areas.
"So far, BPL has restored supply to just over 50 per cent of its customers in New Providence. The company's greatest challenges include the amount of trees in power lines, access points to its lines in several areas including Sea Breeze and South Beach, as well minor to extensive damage in more than 80 per cent of the communities on the island.
"Given the level of damage, BPL is unable to give an exact time for full restoration but expects most customers to be back on supply by the end of the week," the statement said.

BPL expects its restoration effort to ramp up significantly when assistance from international partners arrives on island. BPL has sourced help from the Caribbean Association of Electric Utilities, which is sending at least three teams to the island.
The first team will arrive on Wednesday, BPL said.
On Sunday night, BPL's CEO Pamela Hill said despite the devastation left behind by Hurricane Matthew, a magnitude of which she has never seen before, the electricity provider is working around the clock to ensure households and businesses around the country are returned to normal supply.
Yesterday, BPL teams were out working in several areas scattered across the capital.
"I have not seen anything in such a disperse way in the 22 years that I have had in the electric utility industry and this has hit not only us here in New Providence, but it also hit almost all of our Family Islands," Ms Hill said during a press conference at the National Emergency Management Agency (NEMA) offices on Gladstone Road.
"Approximately 90 per cent of the customers on the islands have been restored. The Family Islands that we are focused on in particular to increase our restoration efforts is Andros and we are talking North and Central (Andros). But outside of that area when we think about the rest we are in remarkable shape."
She continued: "So for instance when we look at some of our larger islands Eleuthera, with at least 95 per cent work (restored) there. Even some of the smaller islands – Farmer's Cay, Inagua, (and) Ragged - are also in the 90 to 95 per cent restored.
"All the other Family Islands that I did not mention have been restored. That said, if someone is on an island and saying 'wait a second I am here on Cat Island and I do not see power to my house.' What I would like to say is first of all let us know."
On Saturday, BPL representatives insisted that their work was cut out for them as they had to undertake a massive tree trimming exercise in several areas before they could repair lines and poles to ensure power was supplied to customers.
Shevonn Cambridge, BPL's deputy general manager of engineering and operations added, that despite having to clean up BPL's Clifton Pier Power Plant, which sustained extensive structural damage from Matthew they had been able to secure 110 of the 177 megawatts capability from this facility.
"We have done a lot of the clean up and we've got our engines here prepped to start," he said on Saturday during a tour of BPL's problem areas. "We have roughly 177 megawatts installed here (at Clifton Pier) and out of that we have 110 that is ready to go right now. So we don't foresee any generation challenges.
"Also at our other facility at Blue Hills by the end of the day we should have 100 megawatts there to go as well so we don't anticipate any generation problems. But as you can see we have a lot of work a head of us in terms of cleaning up and really getting the place back to where it needs to be."
"It's basically getting the power out of the power station and up town to our distribution centres. We have our primary substations and from there we distribute to the other small substations and then down to the consumer level so it's a tiered approach. You go from the high end and you come down and that's the approach that we are taking now," Mr Cambridge said.
BPL advises its customers that depending on the challenges, crews may not complete work and restore supply in the same day. Additionally, customers who may have sustained property damage, especially due to flooding, should have their properties inspected by a licensed electrician before turning on their supply.
For more updates, visit BPL's Facebook page.