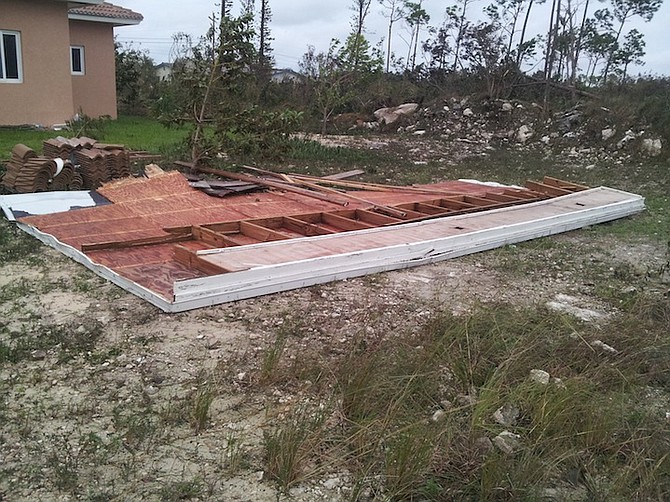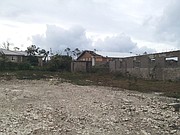 By DENISE MAYCOCK
Tribune Freeport Reporter
dmaycock@tribunemedia.net
THE four settlements along the southern coast of Grand Bahama from Mack Town to Pinder's Point were devastated by Hurricane Matthew, which has displaced thousands of residents whose homes were destroyed and flooded by water.

Described as the "worst" storm to hit Grand Bahama in the last 12 years, residents returned after the storm to battered, flattened, and roofless homes and structures.


After going through storms like Frances, Jeanne and Wilma, Hunters resident Kirkland Russell said that Matthew was the worst by far.
"That was something I have never seen before in all my years here in this community and on Grand Bahama," he said.
"In the communities of Mack Town, Hunters, Lewis Yard, and Pinder's Point, there is untold property and home damage - a lot of roofs have been torn to belt course and homes flooded," Mr Russell said.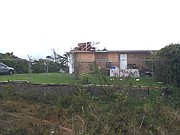 Mr Russell's roof was severely damaged and his home was flooded with about two-and-a-half feet of seawater by tidal surge. All furnishings, appliances and clothes were ruined.

"The house is mashed up," he said. "I lost a lot of my roof, and the interior had about two plus feet of ocean water that came inside. We did our best to batten up the place and secured furniture in high places because we have been through this three times before. But, unfortunately, the roof was teared up by the strong winds, and the rain and the water from the ocean came in and destroyed everything – furniture, appliances, and all our clothing."
Prior to the storm, the National Emergency Management Agency (NEMA) issued an evacuation order for residents in the southern settlements. Many of the residents heeded the warning and went to designated shelters.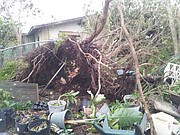 Mr Russell and his family did not stay at home because of the threat of storm surge. With Hurricane Wilma, he had 12ft of flooding in his home up to belt course.

"Thanks be to God we had no life lost in these communities and every single resident evacuated and sought shelter at higher ground," he said.

Mr Russell - who has lived in the community since birth and lived on generation land of his father, was busy installing tarp on his roof and had removed all the ruined furnishings and appliances to the roadside for collection.
He is determined to rebuild.
"The damage is extensive and persons down here are struggling and need assistance and help to rebuild," he said.
While moving through the settlements, many residents were busy cleaning up and trying to salvage what they could. The area, like most, looked like a war zone. The landscape was littered with down and uprooted trees, and damaged structures."

Not too far away, the Lewis Yard Primary School, which was relocated to Hunters, also sustained severe roof damage.
Just across the street, Hunters resident Arnold Lewis was busy salvaging what little he could. A large portion of his roof was blown off during the storm.

"I went to a shelter and got the message around 7pm that the roof to my house was blown off," he said.
On his return, Mr Lewis said the front portion of his house which is made of rock was intact, but the back portion of his house which was made of wood and the roof was no longer intact.
"The back part (of the house) is all gone with the roof," he said. "I lost all my belongings, but I thank God I have life and my family is all alive. The damage is really bad, but I can't feel bad because things happen and I know one day it will be fixed, but I need help to rebuild.
"This storm was worse than Wilma. I didn't have this much damage then, only a lot of leaks. But Matthew is the worst – I lost everything, my roof is gone and I have nowhere to stay," Mr Lewis said.
Mr Lewis said he grew up in the house, which was left to him by his father.
He commended the government for what it is doing to assist.

"We are in dire need of assistance to rebuild, and I think government will do its part to assist us again," Mr Lewis said.
Meanwhile Mr Russell, who was at work at the Grand Lucayan Resort, watched as the storm came in from the south and witnessed multiple tornadoes.
"Matthew was fierce; he did not spare anyone. I watched the storm from in its entirety from the window in the hotel and I could not believe what I was seeing. I saw tornado after tornado - it was a sight to behold. It was unbelievable," he said.
Further west, many of the wooden homes, particularly in Haitian community of Pinder's Point, were flattened to the ground. Mr Russell noted that they had heard reports of a tragedy in the Pinder's Point area during the storm, but so far there has been no confirmation of it.
Mr Russell, who had previously served on the Disaster Management Team in Grand Bahama during the three last hurricanes to hit the island, said rescuing persons during the storm was not possible in Matthew.


"As a part of the Disaster Management Team for GB during Frances, Jeanne, and Wilma, I spent 90 per cent of those storms, especially during Frances, on the streets rescuing and collecting and evacuating people in the middle of the storm. I can say unequivocally without fear of contradiction, that there was no way humanely possible that a vehicle could have been on the streets during the impact of hurricane Matthew.
"Those winds must have been by my estimate at least 150 to 170mph. Grand Bahama experienced a category five hurricane for at least five sold hours," he said. "And widespread damage is a result of what we see throughout the length and breadth of this island.

"I don't want people to believe that damage they see in these communities is the result of poor construction. These homes were built by some of the best carpenters and construction men that this country has ever had. These communities were devastated by Frances, Jeanne and by Wilma. And so…a lot of the buildings were compromised as the result of beating took during in the previous storms," he said.
According to Mr Russell, most of the homes damaged in Mack Town, Hunters, Lewis Yard, and Pinder's Point are owned by widows and persons over the age 65.

"We have serious issues as far as the rebuild process for those persons. It is rough for a lot of senior citizens and widows down here who lost everything and they must receive proper attention," he said.