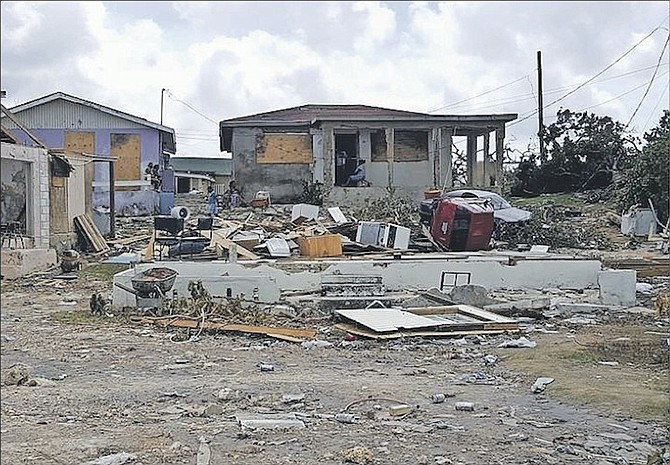 The devastation in North Andros from Hurricane Matthew is almost unimaginable, Ricardo Wells finds . . .
'Battered, but not done."
That is how many North Andros residents described the state of their lives yesterday as Prime Minister Perry Christie led members of CARICOM across communities ravaged by Hurricane Matthew last week.
Filled with stories of survival, endurance, quick-thinking and the "kind acts of God", The Tribune's tour of Lowe Sound, North Andros, revealed the utter devastation left in the wake of the massive category 4 storm.
Homes rendered frail, twisted pieces of steel, wire and rock. Cars pummelled by fallen debris. Business and recreational spaces washed clean away from the surface of the surrounding community.
Roughly a week ago, in the early hours of Thursday, Hurricane Matthew - still an intense weather system - moved off the northwestern tip of New Providence and trained its sights on North Andros.
Before noon on Thursday, Deacon Mitchell Johnson and his wife, Maude, said the surge associated with the storm gave way to an act of nature never thought possible by the longtime Lowe Sound residents. "I wasn't expecting that, (the water) come too fast," said Deacon Johnson when encouraged by Mr Christie to share his story.
Surrounded by reporters, local government officials and foreign delegates, he added: "In about threequarters of an hour all of this (waving his hand over mounds of furniture assembled outside) was gone."
Speaking directly to the Prime Minister, he said: "Instead of you coming looking after this, your heart would have been gone, because we would have had more dead people laying-off."
Rip tides and storm surge in Lowe Sound pushed sea water as far as mile inland in some areas, and in some cases, surges of some 10 feet above normal sea level. The magnitude of the surge levelled homes and ripped through power lines.
"But God was so good," affirmed Deacon Johnson. "And as the Psalms say, in all things give thanks. I remember Job in the last message, he said I only escape to tell you that all gone. And what he say, the Lord gives and the Lord takes. That is my confirmation. Because the Lord that I serve he will never turn his back on we. He will always keep us.
"The water been up to about where those light is right there (roughly six feet), that is where the water was. It rise up quick, but it didn't stay long. I would say about 45 minutes the water was up there, and in another 45 minutes it was gone. Never seen anything like this. Been through Hurricane Betsy, Hurricane Michelle and the water never rise. But I believe it was a tsunami, I am not too sure, but I believe the way the water rise, and so high, I believe it was a tsunami along with that," he added.
Buried in the mud-soaked rubble piled at the doorstep of the couple's home were photos of happier times. A further look revealed certificates awarded to the pair for their service in the community.
Matthew moved in around noon last Thursday; by dusk, the lives of many were ruined.
"I see the crowd the Prime Minister bring; many would find issues with that but I happy the man is here," was the claim of Cecil Marshall, a resident of the Fire Road section of Lowe Sound since 1974. "As you can see every piece of furniture, truck, car - they were all under water. Look inside. I tried to drag my bed to help block the door, but when that water came, it washed away everything."
Pointing to his photographs now scattered in the doorway of his apartment, Mr Marshall added: "All of these were on the wall. No Sir, the water didn't discriminate or pick sides, it took it all with it. We tried as best we could, but it got serious fast. I had to take my family in the roof. I was trying to get in, after I helped them in, but the water came too fast and I was too heavy to pull myself in. It pushed me to the window of the bedroom - roughly 15 feet - I had to push out the screen and squeeze my way out the window to survive. I have never seen anything like this in all my life."
Yesterday's tour revealed utter devastation in Lowe Sound. By estimations, more than 90 per cent of the settlement sustained some level of damage, with roughly 85 per cent of affected areas sustaining critical loss.
The level of desolation left CARICOM Secretary General, Ambassador Irwin LaRocque, unable to speak. After taking a moment to collect his thoughts, he told reporters that the level of destruction seen had escaped description.
"To see the level of destruction, one can only imagine what the citizens of this area would have gone through," he said.
Bracing himself on the trunk of Deacon Johnson's destroyed vehicle, Ambassador LaRocque added: "It is really devastating and I don't think the story has gotten out, the plight of what is happening here. It is almost total devastation. You hear of other places, but here needs attention as well."
Recalling storm devastation in his home country of Dominica throughout his life, he said it was becoming clear that the countries of the Caribbean were becoming increasingly unprepared for the level of devastation associated with modern storms.
He said the threat of storm surges and rip tides have forced nations in the Caribbean to adjust the way they view construction.
Asked how he would approach rebuilding efforts, Ambassador LaRocque said construction of homes so near to the sea must be immediately addressed.
rwells@tribunemedia.net