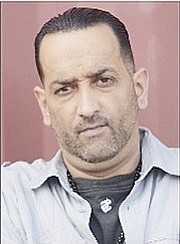 By Inigo 'Naughty' Zenicazelaya
FOLKS, this week had to be quick, literally.
BPL or "Brief Power Limited" or whatever it stands for is at it again.
On again, off again, on again, no wait a minute it just went back off again!!
My what a miserable tune they are playing indeed.
I was 8-6 last week (43-34 overall) leaving me right in the thick of things for the season.
• Here's who I like this week, before the power goes off again.
BRONCOS
BILLS
JAGS
RAMS
STEELERS
PATRIOTS
PANTHERS
GIANTS
TITANS
REDSKINS
RAIDERS
COWBOYS
SEAHAWKS
TEXANS
CARDINALS
LEO B IS BACK
He says he was ill week 4, the Dengue Fever had him, and Matthew beat him bad in week 5.
He's back this week but had a serious dilemma awaiting him upon his return to action.
Due to missing his picks the last two weeks, he had the option of appearing for his segment on The Press Box in a Dolphin jersey or take a four-game picks penalty, two for each week missed.
No big decision I guess. Leo chose the four-game penalty.
Welcome back, Leo B.
Leo B's picks
for Week 6 :
CHARGERS, BILLS, EAGLES, TITANS, GIANTS, SAINTS, JAGS, RAMS, STEELERS, PATS, RAIDERS, SEAHAWKS, PACKERS, TEXANS, CARDS
For the record here were Leo B's picks for the last two weeks:
Week 4: BENGALS, COLTS, SKINS, JETS, PATS, FALCONS, RAVENS, LIONS, BRONCOS, RAMS, CHARGERS, COWBOYS, STEELERS and VIKINGS. Week 4 - 9-6. Overall 33-30.
Week 5: CARDS, PATS, EAGLES, COLTS, TITANS, RAVENS, VIKINGS, STEELERS, BRONCOS, COWBOYS, RAMS, RAIDERS, PACKERS and PANTHERS. That is 9-5 for the week, 42-35 overall.
With the four-game penalty enforced, his record will now be 38-39.
Until next week enjoy the games...if you've got power!