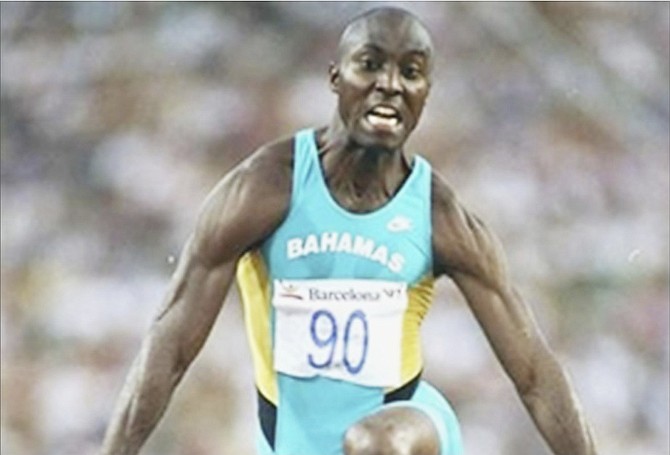 By BRENT STUBBS
Senior Sports Reporter
bstubbs@tribunemedia.net
Frank Rutherford, the first Bahamian to win an Olympic Games medal in athletics, will be inducted into the 2016 Hall of Honour of his alma mater at the University of Houston.
The gala and induction ceremony is scheduled for Friday, November 18 at the Bayou City Event Centre.
Rutherford will join five other former Houston student athletes when they receive the highest honour to be bestowed on them at the university. They are follow track and field star Jenny Adams, footballer Kevin Kolb, baseballer Brad Lincoln, golfer Phil Rodgers and baseballer/contributor Bill Worrell. Their class of six is the 20th and will bring the total membership to 100 individuals and two teams inducted since the Hall was reintroduced in 1998.
When contacted today, Rutherford, who resides in Houston, Texas with his family, said he's honoured to be recognised for his achievement as a five-time All-American and an NCAA champion for the University of Houston.
"Every year at the University of Houston, they've had their induction for the Hall of Fame. I guess this is just my time," said Rutherford of the honour.
Rutherford, who went on to represent the Bahamas at three Olympics from 1988 in Seoul, Korea to Atlanta, Georgia in 1996, had one of the most successful collegiate careers as he competed for the Tigers from 1986-87.
Winner of the 1986 NCAA Indoor Championships title as a junior, Rutherford came back for his senior year to claim both the indoor and outdoor titles in 1987. He also captured four Southwest Conference titles, winning the indoor triple jump both years, the indoor long jump in 1987 and the outdoor triple jump in 1987.
While he still holds both the indoor and outdoor triple jump records at UH, Rutherford became the IAAF World Indoor Championship bronze medallist in 1987 – another first for the Bahamas before he took second at the 1992 IAAF World Cup of Athletics.
That was the same year when he highlighted another historic feat with his bronze with a then Bahamas national record of 17.36 metres, losing out to American gold medallist Mike Conley (18.17m) and Charles Simpkins (17.60m).
"I'm one of those people, who was selected by the Hall of Fame committee here at Houston for an outstanding accomplishment," Rutherford said. "I guess when they call you, you have to appreciate that time."
Rutherford, however, said it's an honour that he will gladly share with the Bahamian people.
"When you go into the Hall of Fame of your university, it humbles you and you are grateful to God that you are put into that situation," Rutherford said.
"Coming from a country like the Bahamas, which is very small, but with the kind of contribution that we are making globally, it really makes you want to sit down and think about your journey.
"For all of the things that you have accomplished, when you think about the University of Houston, which has been the springboard for your future, it really humbles you as a three-time NCAA champion and five-time All American."
As one of the greatest athletes to come out of the Cougars' programme, which has produced the legendary Carl Lewis, Rutherford said he's appreciative of the honour because his sting at the UH has helped to propel an even greater professional career.
"I was able to bring about a winning culture to the Bahamas," he said. "So I'm really grateful to the University of Houston for using me to open up the eyes of my country as I went on to win an Olympic medal."
Although Lewis is still considered to be the greatest Cougar to come out of the programme, having won about 20 Olympic medals, Rutherford said he stands tall as the first athlete to attend the UH who went on to become the first athlete to win a global medal for his country.
"It's just a big and a huge honour for me," Rutherford stated. "I hope God spares my life to be able to see it. I'm looking forward to being there that night and expressing my sentiments on how I felt about my journey at the University of Houston and in winning the first Olympic track and field medal for the Bahamas."
Rutherford, who turns 52 on November 23, now works as a trainer at the UH. He has also established the Frank Rutherford Foundation and the Mega Malt Elite Programme, which has assisted a number of Bahamian student athletes from throughout the Bahamas to excel in athletics, basketball and football in the United States.
When the ceremony is held, Rutherford intends to attend the event with his wife, Milessa Rutherford, his five children, three grandchildren, aunt, nephew, fellow Olympian Dennis Darling, in-laws and his close friend, former NBA great Hakeem Olajuwon.