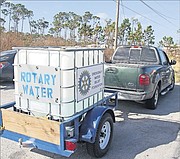 ROTARIANS around the globe raise their glasses each week and toast to "Rotary around the world" - a statement appropriate for times of disasters.
Less than 24 hours after Hurricane Matthew passed over Nassau, Rotarians in the Cayman Islands were collecting supplies for the Bahamas. Having experienced devastating hurricanes themselves, Caymanians organised drop locations for donations. Past President of the Rotary Club of Central Cayman Islands Al Thompson pleaded: "Think about what you needed after Hurricane Ivan. Everything, right? Our neighbours to the north are in the same situation and it's now our turn to become the givers."
The supplies were loaded on a Bahamasair jet leaving on Friday afternoon back to Nassau from Cayman where the planes had ridden out the storm safely. On arrival, the cargo was consigned to The Rotary Club of East Nassau (RCEN) after an alert from the pilot, Captain Gus Roberts, who is a member of the Rotary Club of New Providence.
After following procedures, Bahamas Rotarians collected the supplies on Sunday morning. A joint effort involving Bahamas Customs, Nassau Airport Development Company, Bahamasair and the tireless porters, 20 pallets of supplies were carted through the International Arrivals luggage lounge to the three Rotary trucks. A portion of the donations will be handed over to local agencies who specialise in specific relief efforts. The remaining items will be utilised by the local Rotary support teams for hands-on relief work.
While Hurricane Matthew was still on its path to The Bahamas, the international Rotary community was already answering the request of aid from Haiti. As news of the devastation spreads to the international community offers of Rotarian support, similar to Cayman's efforts, continue to be extended to The Bahamas. Rotary does not wish to impede the efforts of first responders, so in the coming weeks Rotary Bahamas will be reporting updates on their long term plans to assist and rebuild islands affected by Hurricane Matthew.
The Category 4 storm lashed the entire chain of Bahamian islands with up to 140mph winds and torrential rain. Uprooting families and damaging thousands of properties, at least 22 islands were severely affected including New Providence, Exuma, Abaco, Eleuthera, Grand Bahama Island and Cat Island.
Hurricane Matthew was one of the most powerful storms in the country's history. Making matters worse, it impacted The Bahamas a year after many parts of southern and central islands were wrecked by Hurricane Joaquin.