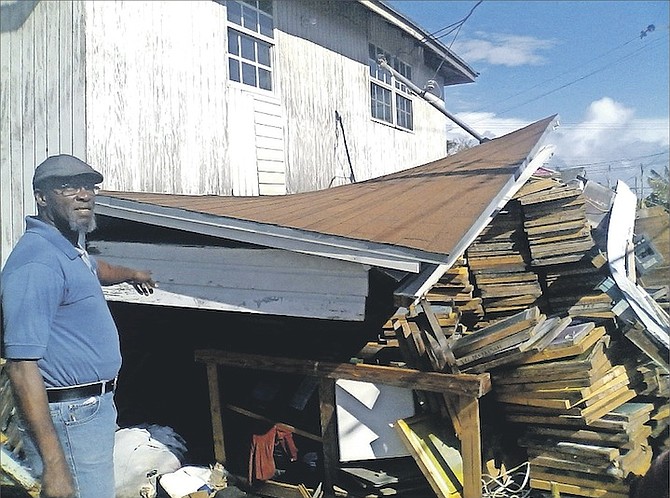 By BRENT STUBBS
Senior Sports Reporter
bstubbs@tribunemedia.net
AFTER operating his Southwest Screen Printing Shop, providing uniforms for a number of sporting organisations and schools for the past 30 years, proprietor Leslie Williams is now asking for the public's assistance in the aftermath of Hurricane Matthew.
The Category 4 storm on Thursday has left Williams' printing shop on Key West Street and Cordeaux Avenue partly demolished with the structure from the bottom collapsed and a portion upstairs still standing.
"As you can notice, I still have equipment in there which seems to be good," said Williams as he assessed the damage left behind. "I will need to get a crane just to lift the structure, which has been in place since I got started in the business.
"I have all of my graphic designs on the screens in there and the equipment to print the t-shirts. So I need to get them out there because I have a number of jobs that I need to complete for people."
With the equipment in the building, Williams said he's in a limbo. But he intends to eventually rebuild the print shop, which is estimated to cost about $35,000. When he adds the equipment and the screens that are under the rubble, Williams said there's about another $30-40,000 that he's going to have to replace.
"Apart from getting the equipment and screens out of there, this is going to set me back by at least six months," Williams projected. "Just to rebuild the shop, it's going to take about six months.
"This is a good time for persons who would have patronised the business over the past 30 years to come forth and assist me in the restoration because the building was old and it was made out of wood, so I really couldn't get it insured."
Persons wishing to assist Williams can contact him at 456-4560 or email cuttywilliams242@yahoo.com
"I will receive any assistance right now," Williams said. "I'm depending on my brothers and sisters to give any generous support in building supplies or monetary donations. This building has to go down so that I can rebuild it again.
"There is a lot of damage to this building. But I'm hoping that I can get the equipment out that is in there. The screens are always replaceable, but this is a loss. We will have to rebuild at any cost."
Williams is still operating from his sewing shop at Washington Street and Cordeaux Avenue. He still has a portion of a printing equipment that he managed to secure prior to the passing of the storm.
But Williams said, in hindsight, he wishes he had removed all of the other equipment out of the building, but he just couldn't because he didn't have any other place to properly store them.